Tata launched the Zest compact sedan today with prices starting at INR 4.64 lakhs, ex-Showroom, New Delhi. Here's how the Zest stacks up against rivals Maruti Dzire, Honda Amaze and Hyundai Xcent.
Dimensionally, the Zest, Dzire and Xcent are equals here at 3,995 mm, while the Amaze is the shortest at 3,990 mm. It also results in the Honda having the shortest wheelbase at 2,405 mm, and the Zest boasts the longest in its class at 2,470 mm. The Zest is also the widest at 1,706 mm and tallest at 1,570 mm.
Tata Zest Petrol vs Rivals: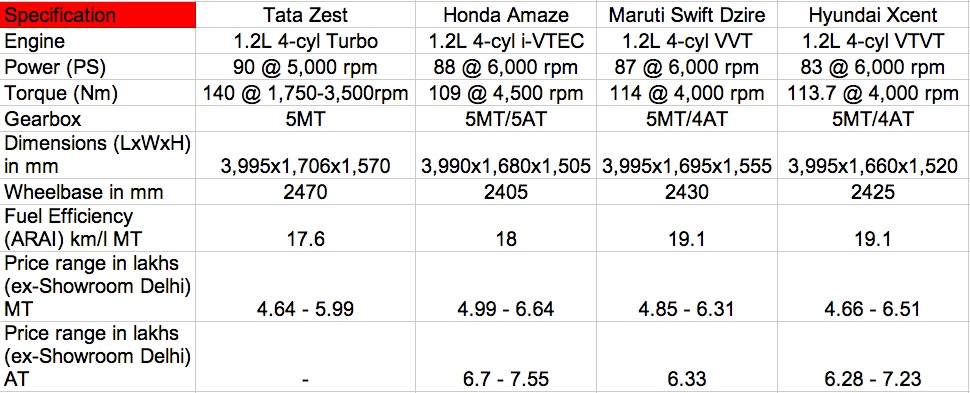 All cars come with a four-cylinder engine, but the Zest is the only car to get turbocharging, while the rest make do with natural aspiration and variable valve timing. This ensures in the Zest being the most powerful and torque-iest on paper at 90 PS and 140 Nm of torque. Sending power through a 5-speed manual transmission, the Zest petrol is not available with an automatic transmission unlike its competitors.
Efficiency wise, the Zest despite being turbocharged has the lowest efficiency at 17.6 km/l, whereas the Xcent and Dzire deliver a segment best 19.1 km/l. In terms of price, the Zest undercuts the Xcent by INR 2,000 for the base variant.
Tata Zest Diesel vs Rivals: Save for the Xcent, all cars use a four-cylinder engine, and the Tata and Maruti in fact use the same engine, albeit in different states of tune. The Honda is the most powerful at 100 PS, and like the Tata, makes 200 Nm of torque. On paper, the Xcent is the least powerful with 72 PS and 180 Nm of torque. The base variant of the Zest diesel is available with the 75 PS engine tune exclusively.
While all cars come with a 5-speed manual transmission, the Zest diesel is also available with an automated manual transmission, giving it an edge over all compact and mid-size sedans (except the Verna). In terms of fuel efficiency, the Zest manages 23 km/l, which the lowest in the segment.
The fuel efficiency of the Zest AMT will be announced at a later date, Tata Motors told IndianAutosBlog.com.
When it comes to price, the base 75 PS Zest is dearer by INR 7,000 compared to the Xcent, the cheapest car of the lot. The base Zest with the 90 PS engine is a good INR 70,000 more than the base Xcent.