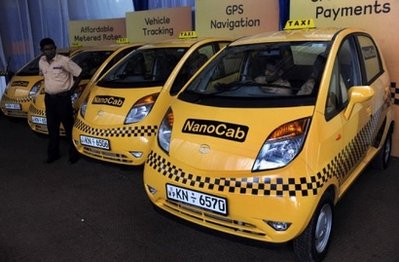 IAB readers would surely know that Sri Lanka was the first foreign market to get the Tata Nano. After countless meetings with Taiwan, Bhutan and some African countries, Tata Motors finally decided that Sri Lanka would be a perfect market for their little wonder.
However, it seems that the Nano – billed as world's cheapest car has not touched down on the private car market. Instead, a local company has bought 45 units of the Nano as Taxis. The company has also plans to introduce 200 more Nano Taxies within six months. The Nano Taxi is marketed at a lower price than air-conditioned cabs and as a better alternative to ubiquitous three-wheel taxis (read Bajaj Auto).
The Magic Iris could have done this job better but there's no way Tata can choose who buys the Nano. Ultimately it is the customer who decides the positioning and target group of a product.
Is this good for the Brand 'Tata Nano'?
Image Source - Yahoo.com