Our friends from OnCars.in have snapped this Tata Nano and at first instant the exterior color strikes you partly because its a glaring blue, and partly because Tata does not offer this color on the market now.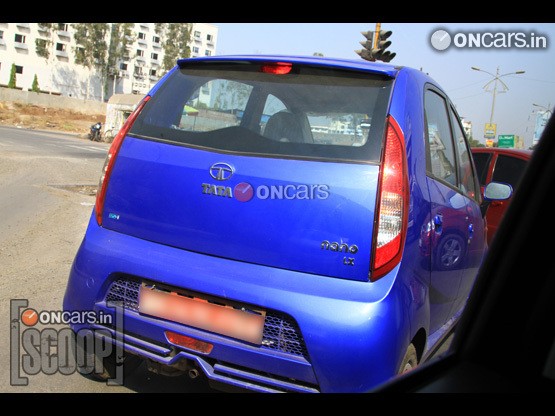 Adding a selection of new colors could very well be one among the new offerings expected in the next Tata Nano update. This Ford like 'Kinetic Blue' looks launch ready.
Tata have showcased the Nano in other colors in the past. A Nano with pink body paint and interior contrast was placed on view at the 2010 Delhi Auto Expo as the "Nano For Her" and the "Nano For Him" variant was lavished in a lime green shade.
We also can't help but wonder if Tata would consider making some changes to the way a few buttons are positioned on the dash. The hazard light switch for example were shown to be above the AC vents on the 2012 Tata Nano Concept that we saw earlier last year. Tata could pepper the exterior with chrome around the bonnet lower shutline and the at the rear, right above the bumper.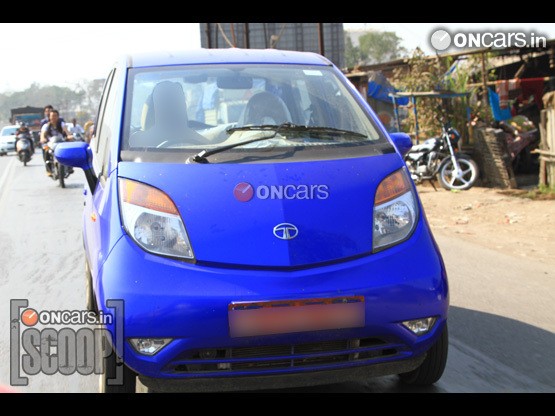 The 2013 Tata Nano range will come in CNG and diesel variants that may feature a swinging tailgate. A cosmetic refresh is planned, whether its using the Pixel's design nuggets or not is something we'll just have to wait and see.
With new spyshots, we'll find out the exact nature of the upgrades on the refreshed Tata Nano which should be ready in the course of the next few months.
[Source - OnCars.in]