Police vehicles have a extensive aura associated with them; be it Lamborghinis of the Italian Police, Supercharged Holdens of the Australian Police or Ford Crown Victorias of the American cops they all have a brutish, aggressive image of fighting crime bulldogs out to save the city from the deadly clutches of thieves, murderers and rapists.
The gunnery associated with these police vehicles and the mere sight of them with their beacons flashing away from a distance has thieves wetting their pants.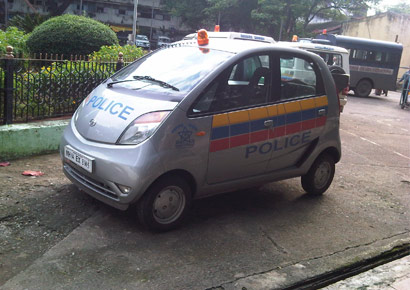 The Mumbai Police, on the other hand, is adopting a rather cutesy way of fighting crime.
The dwindling sales of Nano has made Tata Motors think new and unique target audience. Currently, the company plans to sell Nanos to the Mumbai police as a Patrol vehicle. The idea is that the Nano can act as a secondary car which will replace the bikes for night patrolling.
A senior police officer had this to say to DNA Newspaper -
We use motorcycles to do patrolling in narrow lanes in the city. However, Nano car has more than one advantage, while it takes less parking space as compared to other Sedan cars, it can replace bikes as far as doing night patrolling is concerned and weapons can also be stored in the duct of the car
The image that you see above is of one such Nano which the Mumbai Police is currently testing to find suitability as a patrol and pursuit (Yes! Pursuit!) car for the city streets. Nothing concrete has been decided yet though, and a decision will be taken only after taking into consideration the suitability of the vehicle for the job.
Do you think the Tata Nano makes a good Police vehicle?
[Source - DNA Money]