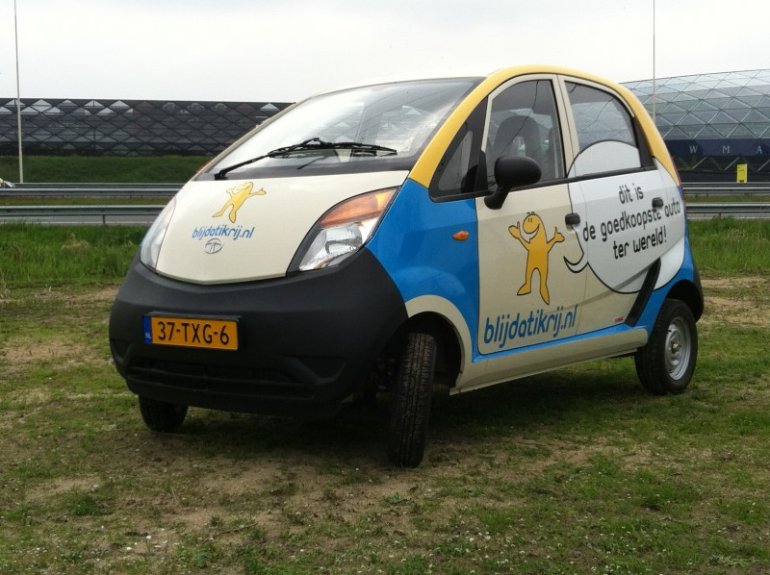 Tata has not yet started selling the Nano in European countries but that may not stop private parties from registering a car for themselves. The Nano's clarity in its ambition, to serve as a safe, economical and comfortable means of personal transport, is unmatched by any city car in the world. The Nano's sales performance has gradually picked up and it may take Tata a while to sort out a European spec version.
Our reader Sandeep Singh from Frankfurt who is fluent in Dutch, helped us understand the article that has appeared on AutomobielManagement.nl.
The Tata Nano is safe enough to ply the NL roads and has been certified road worthy by the RW (Rijksdienst voor het wegverkeer) which is NL's ARAI. The car was bought by an online parts provider Blijdatikrij.nl.
Blijdatikrij paid 625 Euros to transport the vehicle to Netherlands and paid 600 Euros to upgrade it to meet the standards and norms in their country. It looks like they have fitted larger wing mirrors to the car. They paid 2,400 Euros to buy the LX variant but doesn't the LX model have body colored bumpers and fog lights?
Blijdatikrij may never reach a destination on time..the Nano's got the power and speed to do it, but its going to catch every road user's attention who inevitably would like to take a closer look at the 21st century Ford Model T born in India!
[Source - Blijdatikrij.nl via Automobielmanagement.nl]