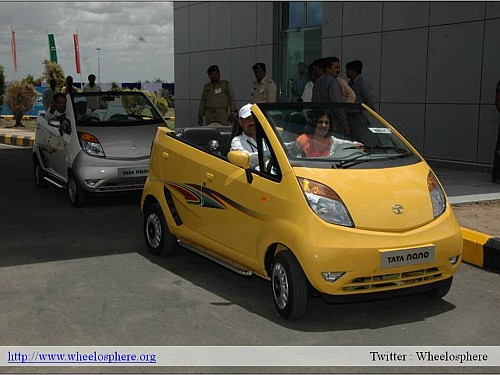 Tata Motors has two roofless versions of the Tata Nano doing rounds inside Tata's Sanand factory. The two Nano's with their roofs chopped are used to ferry visitors at the Sanand plant.
The 'yellow' and 'silver' roofless Nanos have side stickering and sidesteps (we wonder why), which don't really make a difference. The hub caps on the cars looks good too. The seats sport rich pitch black covers.
The Tata Nano's roof, B- and C-pillars have been chopped off completely; as the Nano is a mix between a body-on-frame and Monocoque design, the removal of the roof would affect the rigidity of the frame greatly, as long as the base frame is untouched.
Would Tata Nano launch the world's cheapest convertible? Highly unlikely. We think the Nano convertible's chances in India are slim, even if its prospects are exciting (would be easy to get out in case of a fire! ).
This roofless Nano you see here will join the family of roofless Indigos and Wingers used to ferry guests around Tata's plants.
Click here to see Indian Autos Blog's exclusive renderings of the Tata Nano Convertible
Source: Wheelosphere