As petrol prices spiral out of control, manufacturers are looking at duel fuel options very seriously.
A petrol-CNG combo is a way to keep sales alive in cities where running a petrol car is perceived as terrifying. In metro cities such as Mumbai where CNG pumps are relatively in abundance, the CNG car is almost a hobson's choice.
Tata's been working on the Nano CNG variant for over a year now. Here are two concrete images of the CNG variant testing on the Mumbai-Pune Expressway.
If you observe carefully, there is a very distinct 'three leaf' logo near the front wheel signifying something eco friendly about this Nano. Generally, such logos are associated with the CNG variants because they burn clean and are low on emissions.
The rear of the car features a change too. Look closely at the rear bumper - those vents on its upper edge, facilitating better cooling, are something new.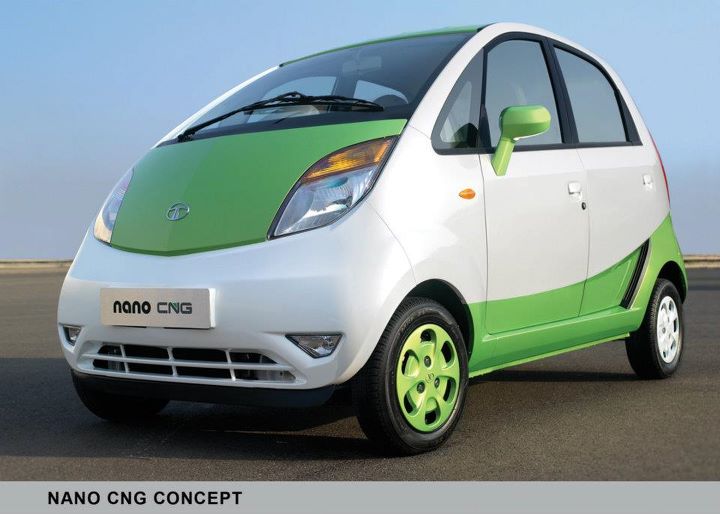 The Tata Nano CNG was presented in its concept avatar at the 2012 Auto Expo. As a concept, the Nano was endowed with a 35-liter CNG tank placed cleverly below the front seats to avoid any compromise on the luggage space.
The production avatar might receive a smaller 17 litres CNG tank. The dual fuel option brings down the running costs and CNG burning emits less CO2.
The Nano CNG will have a toggle mechanism to switch between the fuels. A safety circuit operated by the engine's ECU will cut off fuel supply if a leakage is detected.
The powertrain will not change but a slight power drop is certain on the CNG mode. On the flip side, running cost of the Tata Nano CNG will rival a scooter.
It would be great of Tata Motors to opt for a sequential kit instead of a regular venturi kit. The sequential ones change the input of the gas depending on the throttle response maximizing fuel economy and performance. However a sequential kit is more expensive than a venturi and shoots up costs. Expect the Nano CNG to be at least Rs. 15,000 to 20,000 more than its petrol powered sibling.
As CNG isn't available widely across India, the Nano CNG will only be on sale in selected areas such as Delhi-NCR, Mumbai and in some places of Gujarat, Rajastan, Uttar Pradesh, Haryana, etc. Expect a launch sometime in mid-2013.