While Tata Nano sales are see-sawing as the months pass by, one thing is for sure – it isn't as successful as it was publicized to be. As a product, it is constantly being beaten by the Maruti Suzuki Alto on a month on month basis. However, the Tata Nano as a brand is a whole different story.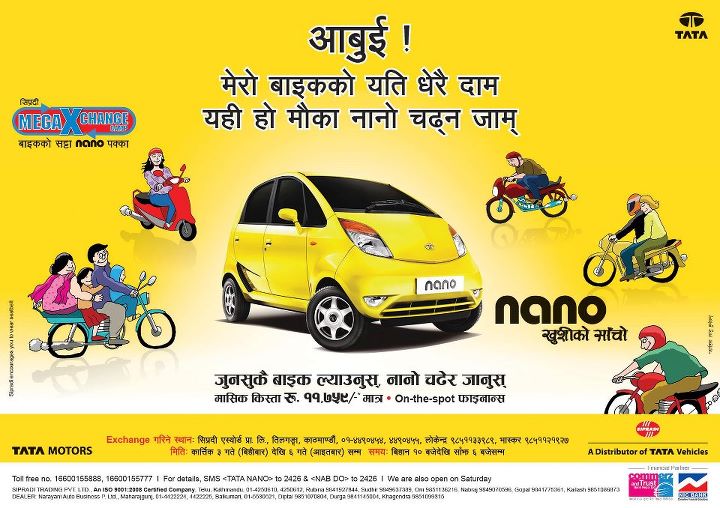 Brand Tata Nano is quite successful, not only in the domestic markets but in the international ones as well. Tata Motors is inundated with queries from many governments to launch the Nano in their own country. The car has already paved its road through Nepal and Sri Lanka. Now, the Tata Nano is headed to another neighboring country – Bangladesh.
However, just like Nepal, the Tata Nano will cost you an arm, a leg and a kidney in Bangladesh. It is launched at a price 599,000 taka which is approximately 3,87,000 INR – thrice of what it costs in India. This exorbitant price is because of the 132 percent tax on each car that Nitol Motors, Tata's sole distributor in Bangladesh, pays to the government. The price will come down once they start assembling the Nano in Bangladesh.
After adding Nepal, Sri Lanka and Bangladesh, can you guess which country wants to woo the Tata Nano? – well yes, it is Brazil. On his 8-day visit to India, the governor of Minas Gerais, Brazil evinced interest in the Tata Nano. At a CII event, Antonio Augusto Anastasia officially made the statement, "We would very much like to take Tata Nano to Brazil."
Looks like the Tata Nano is very much a hot property now as it ever was! It's global standing is very much the same from the time of launch.
[Source - EconomicTimes.IndiaTimes.com and EconomicTimes.IndiaTimes.com]