Tata Motors is in attendance at the ongoing Indonesia motor show with 14 products on display and the famous Tata Nano is parked at the entrance of the venue to greet the visitors of IIMS.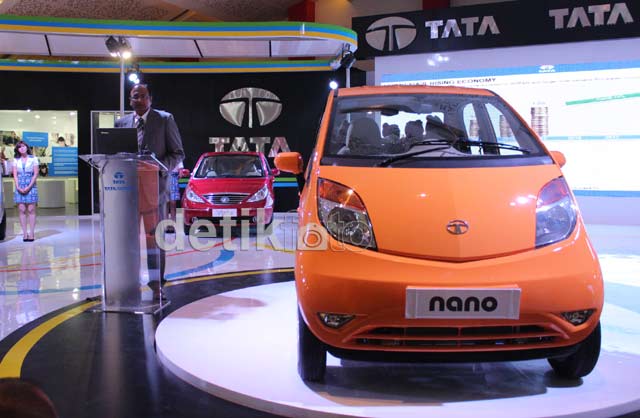 Tata Motors has announced that they will enter the Indonesian market next year with their subsidiary, PT Tata Motors Indonesia.
The Tata Nano will be assembled there with locally sourced components and will be very affordable as prices are expected to be less than Rp. 90 million (Rs. 5.11 lakhs).
Also on display at IIMS were Indica Vista, Aria, Venture MPV and two higher variants of Nano. Tata also showcased its commercial vehicle range which comprised of Xenon double cab pickup, Ace EX, Super Ace and LPK 258 Prima tipper truck.
In addition, Tata also has a separate green pavilion to go with this year's IIMS theme, 'Eco mobility'. The cars on display in the green pavilion are the Tata Nano CNG concept that premiered at the Delhi Auto Expo and the CNG versions of Ace, Xenon and Magic. Tata LPO CNG bus also is showcased.
Mr. B Sengupta, President and Director of PT Tata Motors, stated that the 14 products which are on display portray Tata Motors' quest for technology to meet global standards and market needs.
[Source: Autos.okezone.com via Auto.Detik.com]