It is an annual affair at Tata Motors to bring out a facelift or a special edition model of their mass market products. The Vista has been presented twice with different body paint and alloy wheels and last year went through a more comprehensive facelift program.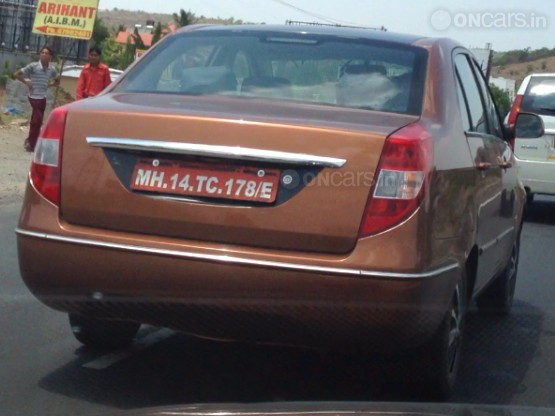 The more recent Manza witnessed changes to its variants, the top-end Elan with the Tyrian Wine paint job became Tata's super sedan.
This year Tata Motors could pass the model's mid-life mile marker by submitting a special edition model. Our friends at OnCars.in have caught a glimpse of an example. On a casual look, it looks like the usual Manza but look closer and you'll see two important changes - the black roof and the dark orange paint work - unique to this test mule.
As we informed you last year, Tata's planning to nix the current model nomenclature that varies with every model and adopt a common set of names across its model range. We have a feeling that Aqua, Aura and Elan could be replaced with trims such as LX, VX and ZX. The Manza Indigo badge could be made even smaller as Tata Motors are not using the Indigo prefix during communications.
If you remember, Tata worked with fashion designer Rajesh Pratap Singh who presented a special edition at last year's Wills India Fashion Week bearing interiors that was adorned with art work of butterflies having gears. Singh combined style and engineering with one trying to enhance the other.
Tata could commercialize this model during the Manza's third anniversary. The group has worked with fashion designers in the past and a recent example is British fashion icon Victoria Beckham's namesake Range Rover Evoque special edition, that was showcased at the Beijing Auto Show.
[Source - OnCars.in]