Three Tata cars have been spied in Indonesia, all within a week. We first showed you the Tata Indica testing on the local Indonesian streets. This was followed by the Tata Vista. Now, its the turn of the flagship Tata product, the Tata Aria to intrigue an Indonesian car spotter.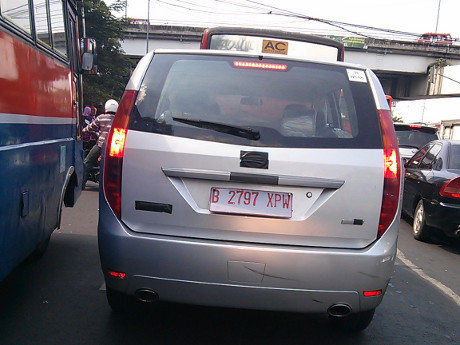 At last year's IIMS (Indonesian International Motor Show), Tata had confirmed their entry into the Indonesian market with the launch of an Indonesian subsidiary. The Indonesian media report that at this year's IIMS, the Tata brand would launch products such as the Indica and maybe even the Aria that you see here.
The President and Director of PT Tata Motors Indonesia, Biswadev Sengupta, has said that the sales could start sometime in September at about 15 dealerships in the country.
This image of the Aria on test in Indonesia was caught by Oto Detik's reader Mr. Sulaksono. It cannot be ruled out that the Aria could be one of the products for Tata Indonesia. However, given the Indonesian market's petrol friendly nature, we are not sure how the diesel powered Aria would be received.
One thing that would definitely appeal to the Indonesians is the three-row, 7 seater in the Aria. To give you an example of what we mean, here are the country's best selling cars in order: Toyota Avanza, Daihatsu Xenia, Toyota Innova, Suzuki Ertiga and the Nissan Grand Livina!
The Aria's mix between a crossover and a 7-seater should catch the Indonesian's fancy then. Will Tata's most advanced product convince buyers and be rewarded with higher appreciation in Indonesia's car market?
[Image source - Oto.Detik.com]