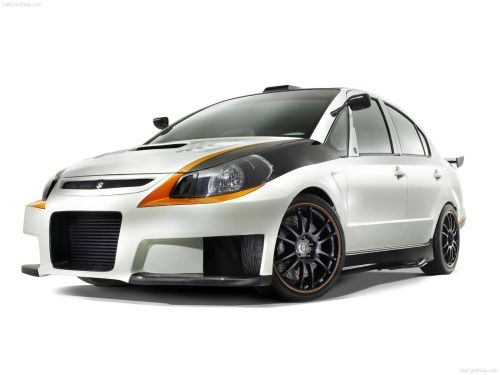 The Suzuki SXForce Concept is one of the latest additions to Suzuki's media-acclaimed Suzuki LIVE Series - a line of brand-dedicated concept vehicles specially designed for life enthusiasts, adventurers and thrill-seekers. SX4 forms the base of this car and after that, the mods are unrestricted!
Reinforcing the link between the company's rich motorcycle heritage and versatile line of fun-to-drive automobiles, the Suzuki SXForce is a sportbike-inspired concept based on all-new 2008 SX4 Sport. Designed and built by Road Race Motorsports of Santa Fe Springs, Calif., the SXForce boasts a powerful 250-horsepower, 2.0-liter, turbocharged engine matched to a five-speed manual transmission.
The exterior shell of the SX4 Sport has been modified to be eye-catching to both four-wheel and two-wheel enthusiasts. It features a striking blend of carbon fiber, Flash Pearl White and Orange Metallic paint and showcases a number of performance-based automotive parts and stunning motorcycle accents, including sportbike-style side rearview mirrors and dual exhaust, also found on the championship-winning GSX-R1000. The dragster like rear looks hot!!
More info on performance after the break
While the Suzuki SXForce Concept is sure to be a showstopper on display, it was designed to look even better on the road. This fully drivable, track-tested SX4 Sport concept receives several performance enhancements, including a fully tuned performance suspension system, F1-style outlet gills to help underhood air flow, tailored rear bodywork with carbon fiber diffuser, Carbontrix rear wing, Tein coilover suspension height and damper setup, and reinforced structure to further enhance rigidity for optimal handling. The Suzuki SXForce is outfitted with 18-inch Enkei racing wheels and a staggered high-performance Toyo T1-R tire package - 225/45-18 in the front and 235/40-18 in the rear. It also is equipped with Rotora six-piston calipers with two-piece 355mm rotors for sportbike stopping power.
The motorcycle theme continues inside the Suzuki SXForce Concept, beginning with suede and leather seats and interior appointments, mimicking sportbike leathers. Other interior enhancements include motorcycle instrument cluster and controls, roof air intake for optimal breathing and a revised track-themed interior featuring carbon fiber components and accents. Engine vitals are monitored via a Zeitronix ZT-2 wideband data logger and all vital engine parameters are logged on a laptop and viewed on the ZT-2 gauge mounted on the Hayabusa handlebars. The Suzuki SXForce is equipped with an integrated Garmin navigation system, and its rear seats have been removed and replaced by a high-output Rockford Fosgate audio system.
IAB
Information and pictures courtesy Net Car Show