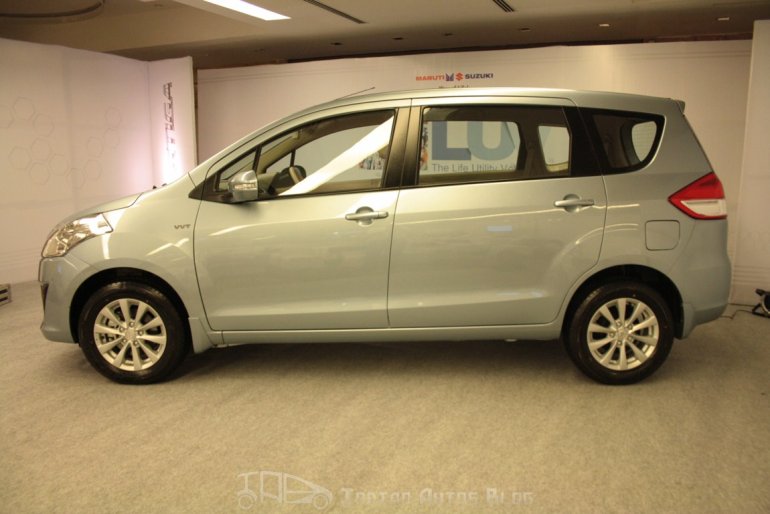 We know that the Ertiga is a success story for Maruti Suzuki with 400 bookings on Day 1 in Maharashtra that turned into a magical figure of 10k bookings within a few days pan India.
IAB has already informed readers that the India-made Ertiga will be exported to Indonesia in May.
Suzuki expects to sell 50,000 units of vehicles within a year of which the Ertiga will contribute about 30%.
It seems their expectations might fulfill much before the original forecast. The Ertiga received close to 8,500 orders even before the official launch on May 7th, said Dimelza Sharindradini, Public Relations 4W PT Indomobil Suzuki Sales (SIS) to Okezone.
The Ertiga was launched in Indonesia in three variants.
Ertiga GA at IDR 143.000.000 (8.27 lakhs)
Eritga GL at IDR 153.000.000 (8.85 lakhs)
Ertiga GX at IDR 165.000.000 (9.55 lakhs)
All the above three variants are powered by new K14B (DOHC-VVT) engine that produces 70kW/6,000rpm and 130Nm/4000rpm. This is a Front-Wheel Drive model and is a body built on a stretched Swift platform.
Ertiga's Competitors - Can they win the contest?
Toyota Avanza, Daihatsu Xenia and Nissan's Grand Livina are the Ertiga's competitors in Indonesia. The Ertiga brought in a tough contest between them. The reasons are:
Ertiga has a wheelbase of 2,740 mm or longer than the Xenia (2655 mm) and Grand Livina (2600 mm).

Ertiga has 185 mm ground clearance, together with the Grand Livina.

Ertiga is front-wheel driven while the Avanza and Grand Livina Xenia are rear-wheel-driven.

FWD along with the K Series engine's tuning offers better fuel economy and middle row seats are not affected by Transmission tunnel

Ertiga costs lower than the entry level models of Toyota Avanza and Grand Livina.
Deliveries to the first 5,000 customers have begun. It is also rumoured that if there is any price change that follows this development, it won't affect first 5,000 Indonesian customers.
[Source - Okezone.com]