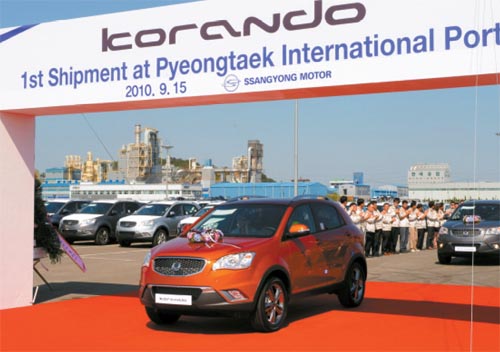 The boffins at Ssangyong must have breathed a heavy sigh of relief as the company shipped its first consignment of the mid-level SUV, the Korando C from South Korea earlier this month.
Last few years have been a constant turmoil for Sangyong. Dealing with the financial crunch caused global financial crisis, labor union strikes (who brought about a war-like condition inside the facility with helicopters and battalions brought in to bring the situation under control), management restructuring, investors backing out and the company very nearly hitting bankruptcy; the management sure must have thought that the doom was near.
But despite of violent storms, the company managed to focus on development of Korando C. And finally about 450 Korando C were shipped from the Pyeongtaek International Port in Gyeonggi for Tarragona, Spain and Antwerp, Belgium.
On this glorious occasion, Lee Yoo-il, joint manager of Ssangyong, said
The Korando C is a model that strengthens Ssangyong's mid and long-term lineups and is a strategic model that will contribute to stabilizing the company.
The fortunes have also been turning for the company with Mahindra&Mahindra bringing in the much required financial liquidity. The company has plans to sell 10,000 SUVs though its 1,200 strong dealer network across the globe in the first year.
The Korando C comes with a 2.0-liter turbo diesel engine that makes 175PS. ABS, EBD and Airbags feature on the equipment list.
History tells us that most cars that are launched when a company nears its bankruptcy are generally brilliant cars. The Jag XF did it for Jaguar, the Cruze did it for Chevy, the Punto and 500 did it for Fiat. We hope the Korando C does it for Sangyong as well.
And the Korando C is definitely making it to India by 2012. Get ready to pay a little over the Scorpio's price if you want to drive one home.
Ssangyong Korando C Image Gallery
Source - Jonngang Daily