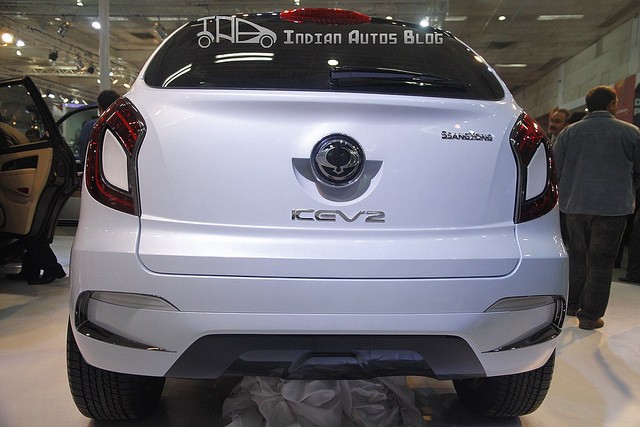 Ssangyong unveiled four products today at the Auto Expo namely Rexton, Korando E, Actyon Sports and XIV-1. If you are a keen observer of the auto industry, you'll immediately realize that these have all been shown at previous motor shows.
The Rexton will be launched in the Indian market within the next 6 months, brought through the CKD route. In 2011 Ssangyong witnessed a growth of 40% YoY and by entering India, they hope to put up a better performance in 2012.
The Korando E (White) displayed at the exposition uses a 120kw battery which gives it a range of 180km and a top speed of 150kph.
The XIV-1 Concept (Orange color) bundles together the attributes of a B-segment SUV with the affordable running costs of a small family car. The XIV-1 concept stands for 'eXciting user Interface Vehicle.' The car's four seats can rotate through 360 degrees in addition to moving backward and forward.
The XIV-1's audio system, the display of information on the dashboard and online communication can be controlled via the user's smartphone. This is not a distant reality anymore as the iPhone and iPad with powerful applications will soon be able to take over many controls of the car.
The Rexton (Violet) is a 7 seater in the segment having the Toyota Fortuner and the Nissan X-Trail. It is powered by a 2.7 litre turbocharged common-rail diesel engine good for 184 PS power and 402 Nm torque.
The Korando E is an electric vehicle concept based on the Korando C. Mahindra surprisingly did not showcase the diesel powered Korando.
The Actyon Sports (Blue) pickup truck is powered by a 2-liter engine producing 360Nm of torque.
Ssangyong exhibits at Auto Expo 2012
Can't view the slideshow above? Head over to the Ssangyong Flickr Image Page for the gallery.