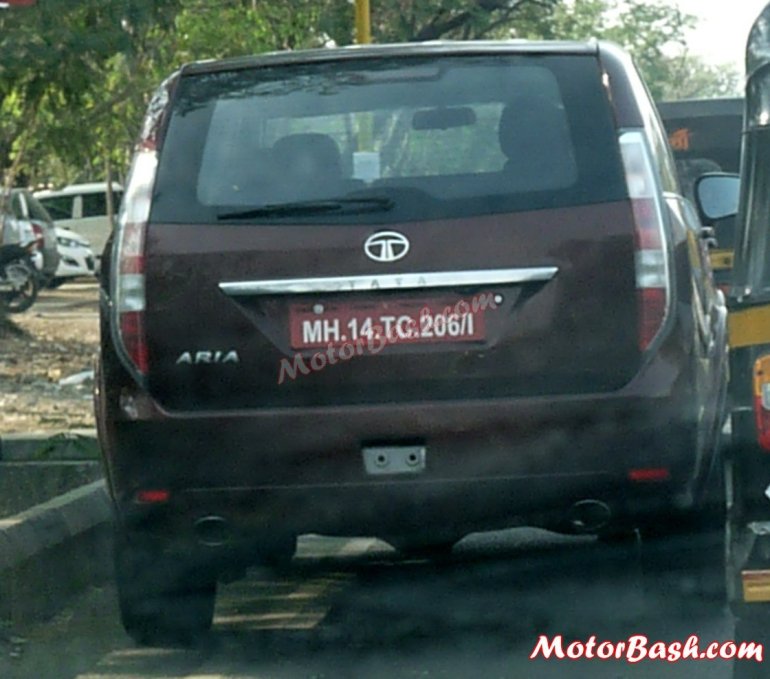 The Tata Aria is an excellent example of how a good product can be let down by the poor perception of the brand.
The premium MPV from Tata Motors is quite easily the best car that Tata has engineered till date but sales have been pretty appalling. People felt that the Aria is overpriced and the company attempted to make the car more affordable by introducing entry level variants, twice, but the move didn't help the double digit monthly sales numbers of the crossover MPV.
Karl-Heinz Servos, project director – joint projects, engineering research centre at Tata Motors once stated that the Aria needs "image correction" to get back to the business and it appears Tata Motors is doing just that.
Our friends at Motorbash.com have managed to snap a Tata Aria with a revised tail lamps cluster. The turn indicators and reverse lights now sport clear lenses and there is a dash of chrome on the outer sides of the clusters.
If you remember, another Aria with smoked headlamps was caught testing near Pune recently and that makes us think that the new head- and tail-lamps are part of image-corrected Aria.
We believe that along with subtle cosmetic changes, there could be something new on the interior as well. We expect the updated Aria to come with a 6-speed automatic transmission which was showcased at the Delhi Expo 2012.
In a recent interaction with Indian Autos Blog, Mr. Ranjit Yadav, President of Tata Motors passenger car business unit said the company is "working on a number of things on the Aria."
We hope that the updated Aria puts the bad times behind and restarts on a positive note.
[Source: Motorbash.com]