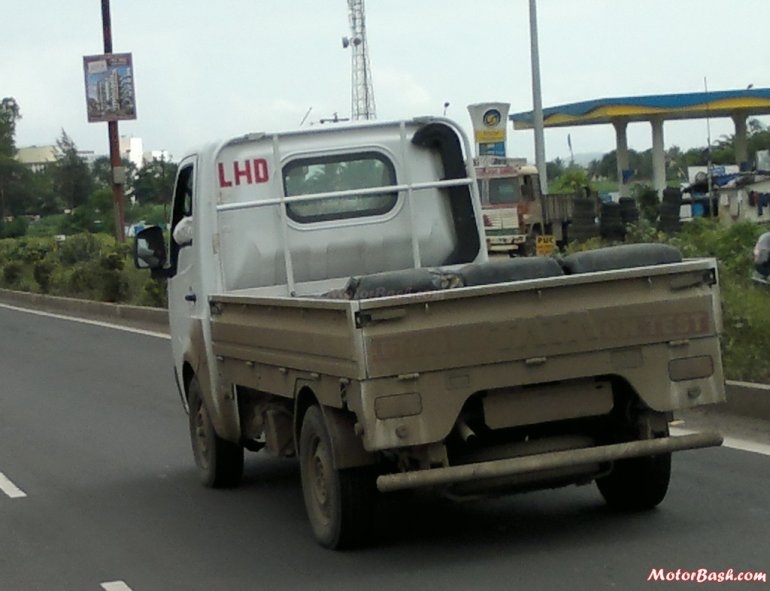 It almost seems like yesterday Tata Motors announced the refreshed line up of the Super Ace with 5 exciting colours.  Now, it seems Tata Motors has ambitions to launch the Super Ace in more international markets.
Thanks to our friends at MotorBash, we have a spy shot of the LHD Super Ace testing on Pune roads. The LHD variant may not make it big in developed markets such as European countries, but will definitely be appreciated in African markets Ghana, Anglola, Senegal, Algeria, Congo etc, where Tata motors already sell their commercial trucks.
Tata Motors is testing almost its entire portfolio in LHD variations. We have seen an Aria, Nano and Xenon prior to this.
The LHD Tata Ace HT is already been exported to some of the above mentioned countries and the spy shots suggest that its bigger brother, the Super Ace is also ready to go places.
The Super Ace is powered by a 1.4 litre diesel engine with intercooled turbocharger which produces 70 bhp and 135 Nm of torque. The light truck has a payload of 1 tonne.
The Super Ace is equipped with power steering and has better amenities than the Ace HT.
Tata Motors may assemble the Super Ace for African countries at their existing truck plant in South Africa. The Super Ace has the potential to carve a place for itself in the African continent where Tata trucks are quite popular.
[Source: Motorbash.com]