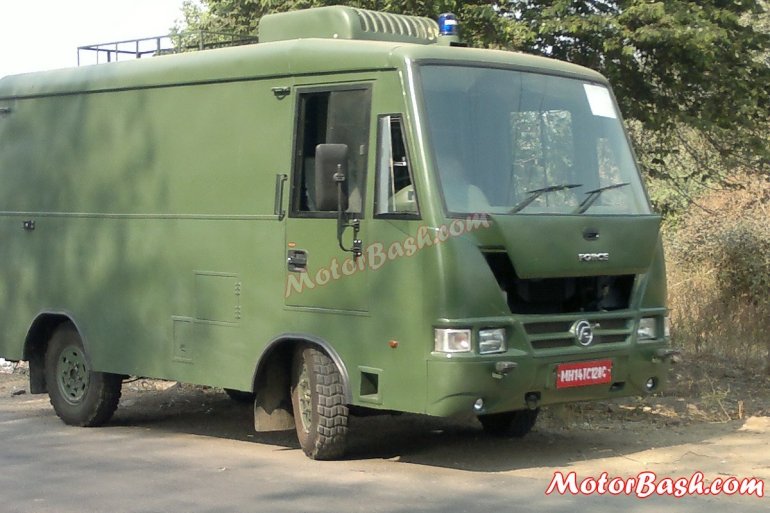 Force Motors is exploring new avenues to take the brand to wider reaches. The company which was strictly a utility vehicle manufacturer has already made inroads into passenger vehicle category with their Force One SUV.
While Force Motors sold only half the number of Force Ones than the projected figures, the performance was enough to encourage the company to further invest in the passenger vehicle business. More passenger cars are in the pipeline and in the interim, Force is testing a defense ambulance prototype.
The test mule was spotted by our friends at Motorbash.com somewhere in Pune. The mule carried Force logo and badge and the tell tale military green paint job suggests that this ambulance is not for civilians.
The vehicle was shod with rugged tires with knobs that could handle harsh terrains and had a blue beacon on its head. Motorbash.com also reports that the rear door of the test mule was transparent revealing a stretcher which was stowed in. The roof had what appeared to be an air conditioning unit.
The defense ambulance could be based on a beefed up version of the Traveller platform and could use the same Mercedes licensed diesel engine as the Force Traveller-26.
Commercial vehicle players like Tata Motors, Ashok Leyland and Mahindra have a dedicated defense wing which produce an assortment of military grade vehicles. Force Motors, with a strong presence in ambulance sector could make a mark in defense sector as well.
[Source: Motorbash.com]