We have been keeping our eyes open for any news about the next generation Skoda Octavia and we got lucky today!
The new sedan was caught completely undisguised on the road for the first time after featuring in umpteen number of scoops, renderings and espionages in the recent past.
The world automotive media is closely tracking the progress of the Octavia III which is expected to be a big hit for the Czech automaker. In fact Skoda themselves hope that the new Octavia will be a top 10 best selling car in the world.
Browse through our comprehensive coverage of the new Skoda Octavia
Skoda has apparently taken the cars to Santiago, the capital city of Chile for official photo and commercial shoots. The Octavia has successfully evaded the eyes petrolheads so far but not anymore!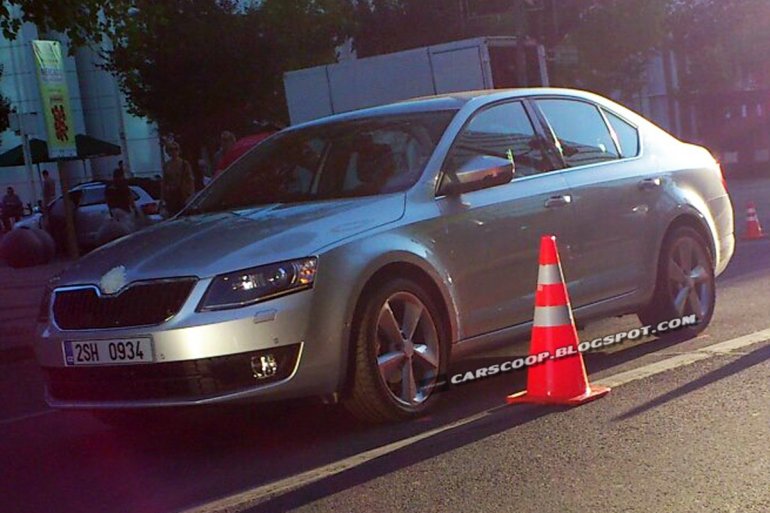 Carscoop reader Mr. Nicholas and Autoforum.cz reader Mr. Roberto have managed to click the unsuspecting Octavia in Chile. The photo shoot hints that Skoda is getting ready for the launch soon.
The estate version of the new Octavia is seen in the background of the photo (inset).
The car has bigger dimensions than the current Octavia (called as Laura in India) and features much improved and advanced underpinning. The sedan sits on the VW MQB platform which in due course will underpin all cars under the VW umbrella.
The new Skoda Octavia is expected to be powered by two petrol engines and two diesel engines - a 138 bhp 1.4 litre TSI petrol engine with Active Cylinder Technology, 1.2 litre TSI petrol with 104 bhp, 1.6 litre TDI diesel putting out 104 bhp and a 148 bhp 2.0 litre TDI.
[Source: Carscoop.blogspot.com & Autoforum.cz]