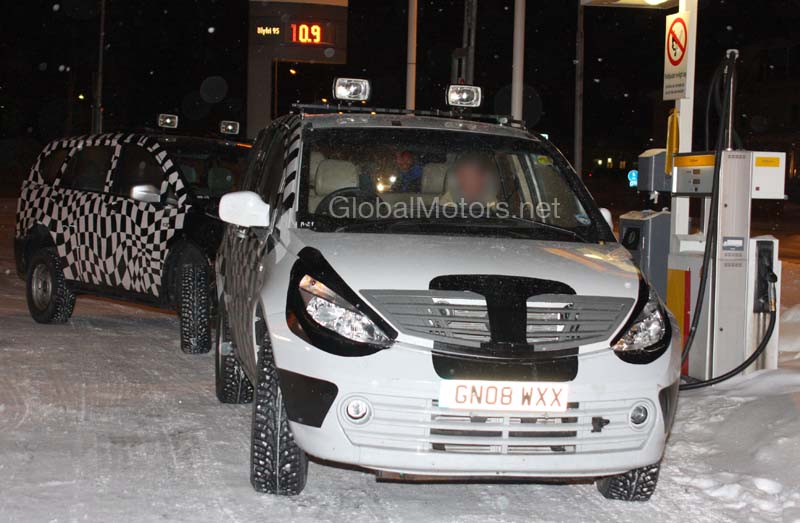 Minutes ago, Global Motors posted spy pictures of the 2009 Tata Indicruz testing in cold weather in Sweden. It is partly camouflaged, and a head on photograph brings out the design elements of the car
The raised hood line is in conjunction with European Pedestrian safety standards. The grille is attached to the hood (similar to the Mercedes E-Class) and the whole front end has a lot in common with the Indica Vista like the fog lamps, headlights and the form of the hood and the rear-view mirrors. If you look closely at the 3rd images, a crease bisecting the hood is evident, just like in the Indica Vista.
The wheels seems to have come off the Tata Safari and the wheel-wells are an eye sore- A typical Tata vehicle trait. The size of this car should be close to the Toyota Innova's and the price should be a couple of lakhs lesser than it. On the whole, people will assess it's looks better than the XYLO.
What's a little confusing is the presence of 2 tailpipes peeping out of the rear bumper. The tailpipes which looks to have gone through a lot of moisture and ice, is terribly rusted. Is Tata developing a bigger diesel/petrol engine? Or is the V6-Engine they were talking about on the Tata Elegant going to find real world application on the Indicruz? A V6 on a utilitarian vehicle? Doesn't add up, does it?
A shot that partly shows the interiors confirms a new dashboard on the Indicruz. The Indicruz will be the first Tata vehicle with steering mounted controls for audio? The sad part is though, the steering column is exposed- The plastic that sits there, has come off- Quality trouble even on a test mule, Tata?
A set of lights have been mounted on to the roof of the car, which is purely to enhance visibility in such dark environments, and will not be present on the production model. The 4WD system from the Safari could be carried over on to the Indicruz for export markets.
A lot of doubts remain on the Tata Indicruz' engine options, features and pricing. The car should be on the roads by the end of this year. European markets should get this car by 2010 along with the new Indigo and the Vista.