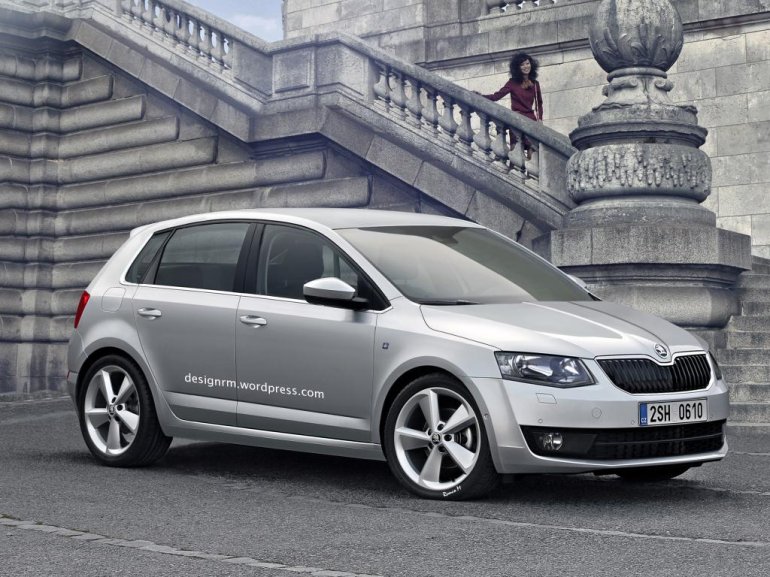 Skoda is in the process revitalizing its product portfolio and that means new models and the next generations of the existing models are boarding the next bus to their nearest Skoda factory.
The current Skoda Fabia has served for almost six years now and that begs for the next generation model to step in. Here is an imaginative rendering of the 2014 Skoda Fabia by artist Mr. M. Remco.
The styling of the car is a far cry from the current generation Fabia but very close to the Skoda Rapid and the new Octavia. The front fascia stays truthful to the Czech automaker's new design philosophy.
With its trademark grill, headlamps, ridge on the centre of the bonnet and straightforward sheet metal panels, this rendering of the next gen Fabia is a quintessential Skoda. The car wants to be elegant yet understated. If the design of the Rapid and new Octavia are a preview into future Skoda's, we expect a similar story to unfold with the new Fabia.
The next generation Skoda hatchback will ditch its primitive PQ24 platform for the much more modern and lighter MQB. The new platform is expected to have a transformational effect in the way the Fabia drives and of course, the boot size, cabin room and performance figures will be a step up from the current model.
The powertrain options will comprise of the VW group's range of TSI turbo petrols and TDI turbo diesels with varying displacements, not to mention the GreenLine versions with ultra low CO2 emissions.
The 2014 Skoda Fabia is expected to break cover in the second half of 2013 and could go on sale in early 2014, following the launch plan of the new Skoda Octavia.
[Rendering: Designrm.wordpress.com; Source: Automobil-blog.de]