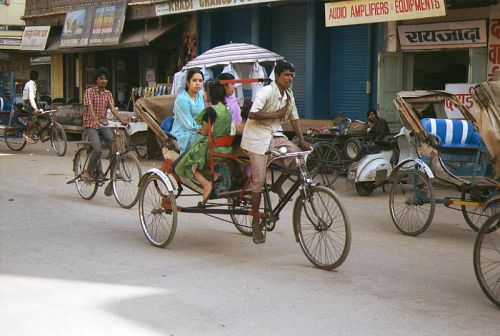 Cycle Rickshaws have always been eco-friendly. They were a popular means of transport until the mid-90's when it was replaced by the Auto-Rickshaws (Hi-speed Rickshaws!). In an attempt to bring back the glory days of the Cycle rickshaw, The Centre for Scientific and Industrial Research (CSIR) has developed the 'SOLECKSHAWA'. It is a state-of-the-art, solar powered version of the humble cycle-rickshaw, which can be pedalled normally or run on a 36-volt solar powered battery.The Soleckshaw promises to offer a solution to urban India's traffic woes, increasing pollution and fossil fuel dependence, as well as an escape from backbreaking human toil.
The "soleckshaw", has a sturdier frame and a stronger body, foam seats for up to three people,and includes FM radios and power-sockets for charging mobile phones during rides.Having a top speed of 15 Kph (9.3 mph), a fully-charged solar battery will power the rickshaw for 50 to 70 Kms.
"The most important achievement will be improving the lot of rickshaw drivers, it will dignify the job and reduce the labour of pedalling. From rickshaw pullers, they will become rickshaw drivers" said Pradip Kumar Sarmah, head of the non-profit Centre for Rural Development.
While 60 percent of Greenhouse gases comes from the global transport sector, the soleckshaw, with improvements, can be successfully developed to reduce the carbon footprint from the transport sector.

If all goes well, the "soleckshaw" will be a key transport link between sporting venues at the 2010 Commonwealth Games in New Delhi.
Source- Physorg