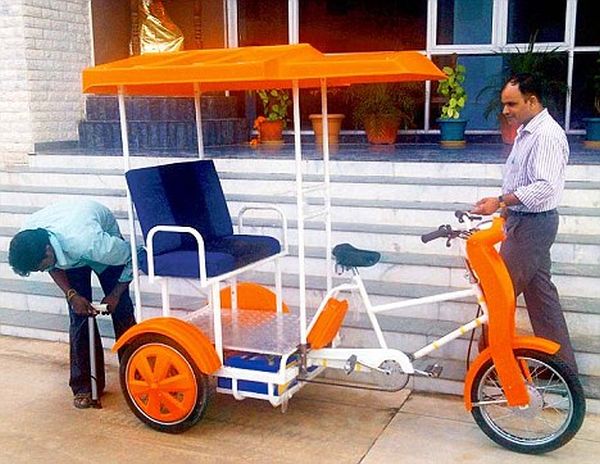 It is wonderful to watch new alternate fuel technologies coming to India. The government made sure that alternate fuel technology such as fuel cells and hybrids get due concessions in the 2012 Union Budget. Recently, we reported of a Chinese company Romai  heading to Kerala with their Electric Auto rickshaws. Now it seems that New Delhi is also jumping the bandwagon although a bit differently.
What is the buzz all about?
A lot of Delhiites complain about hot summers with the Sun fiercely shining overhead. Well, that same aggressive Sun will help Delhiites commute to their office. New Delhi is all set to go green with Solar powered rickshaws.
How do they work?
Slickly named Soleckshaws, these rickshaws use a strip of silicon to convert solar energy into electricity which is then stored in the batteries and used to power the vehicle. With the help of solar energy, these rickshaws are capable of reaching a maximum speed of 25 km/hr.
How much do they cost?
There are three variants available
For plastic frame with an enhanced battery – Rs 85,000
For plastic frame only -  Rs 75,000
For metal frame body – Rs 45,000
What is the plan?
It was designed by Central Mechanical Engineering Research Institute (CMERI) with the Council of Scientific and Industrial Research (CSIR). Six contract manufacturers have been chosen to manufacturer and the plan is to introduce about 1000 rickshaws in the various parts of the capital by June. In the first phase the rickshaws will be introduced in Delhi University, Dwarka, Pitampura, Rohini and trans- Yamuna areas.
What is the future?      
Municipal Corporation of New Delhi plans to increase the number Soleckshaws on road to 10,000. If things click, we can see these Soleckshaws is all parts of India.
[Source: Dailymail.co.uk]