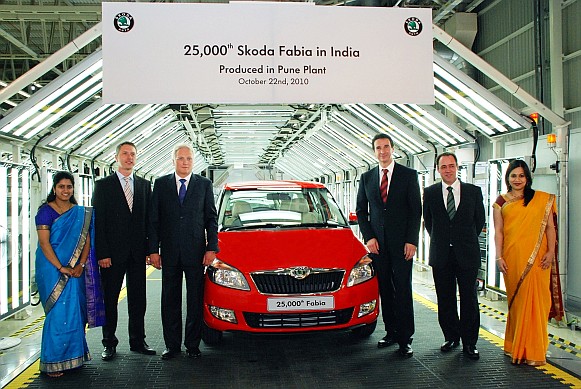 With news flowing thick and fast on India being the hub for the next generation Skoda Fabia, top officials flew down to India today to take part in the roll out of the 25,000th Fabia in India.
The 25,000th Fabia rolled out of the company's recently inaugurated Chakan plant which also manufactures the Polo and the Vento. Rumor has it that this same plant will manufacture Skoda's C-Segment sedan and perhaps even the sub-Polo/sub-Fabia small car in the future.
Press Release
ŠkodaAuto India, a fully owned subsidiary of ŠkodaAuto a.s., Czech Republic and one of the most promising automobile companies in India, today rolled out the 25000th Fabia ever built in India from Volkswagen Group's facility located at Chakan, Pune. The event was even more significant with the presence of Prof. Dr. h.c. Winfried Vahland, Chairman of Board of Directors of ŠkodaAuto a.s. and the new Volkswagen Group Chief Representative India & President and Managing Director Volkswagen India Pvt. Ltd, Dr. Frank Loeschmann. In his first visit to India as the new Chairman of Board, Dr. Vahland's reaffirmed India's status as one of the most important markets in Škoda Auto's global growth story. The visit also re-iterates the company's commitment to dig deep into this market and realize its full potential.
Speaking on India's potential Prof. Dr. Vahland, Chairman of Board of Directors of Škoda Auto a.s. said "India has contributed significantly to Škoda's growth as a global brand. Our products have captured the imagination of Indian consumers for years now. We stand by our commitment to our Indian consumers and promise to continuously offer products which will suit their growing lifestyle. Indian market has been earmarked as an integral part of our global growth strategy. We plan to achieve this aggressively by extending product portfolio to get to new segments resulting in profitable growth."
Speaking on the occasion, Dr. Frank Löschmann, Volkswagen Group India, said, It gives me great pleasure to welcome Prof. Dr. Winfried Vahland to the Volkswagen India Chakan plant, which is one of the most modern plants of the Volkswagen Group worldwide. Today, we are proud to roll out the 25,000th Skoda Fabia from our state-of-the-art factory. This marks another milestone in the history of Volkswagen Group India since the start of production in the plant with the Skoda Fabia from May, 2009. I am most delighted to be here today and wish to be a part of many more such historic occasions."
Prof. Dr. h.c. Winfried Vahland's visit follows the successful launch of the new Škoda Fabia. The new Fabia with its complete new package offering has garnered tremendous consumer response making a significant impact in its segment.
ŠkodaAuto India has recorded a significant growth of 36.6% in sales for the year 2010 till date over the year 2009. Škoda is in its 10th year of operations in India, since November 2001 and has sold over 94500 units. Škoda currently has 3 models on sale in India – Škoda Superb, Škoda Laura and Škoda Fabia, the 4th model the Yeti will soon be added in its portfolio.