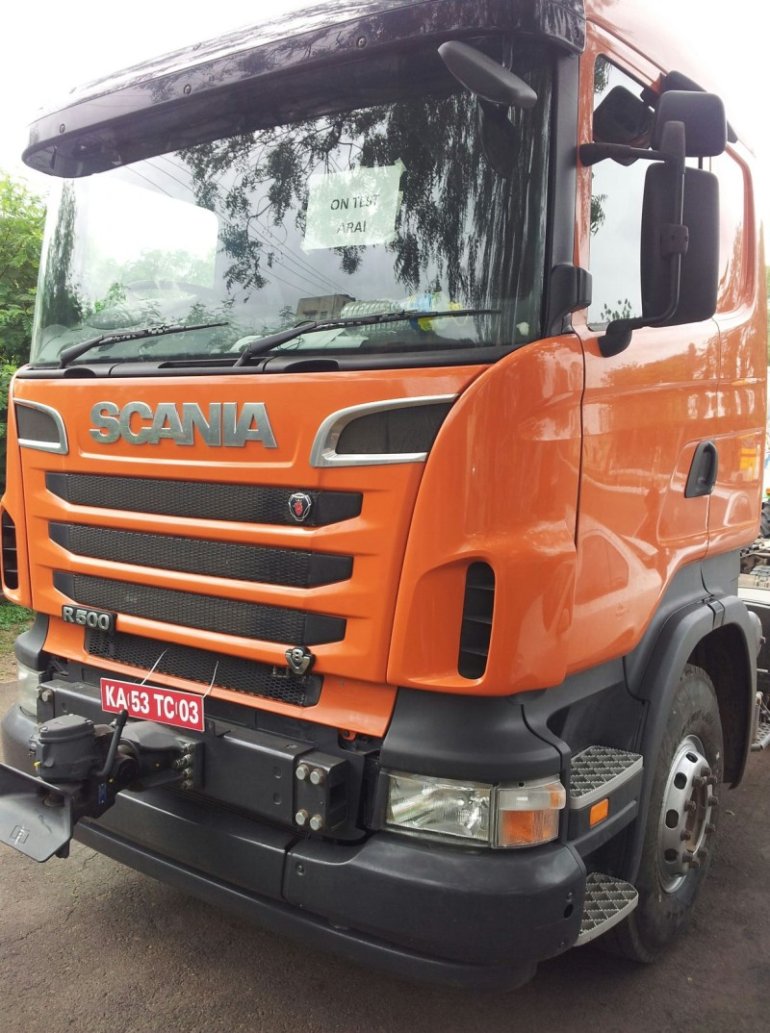 On of our readers who is hugely passionate of anything on wheels, snapped an image of a Scania truck in Western India. On an initial glance, we thought this was a competitor to the Navistars and Bharat Benzs of India, until we fact-checked; we were wrong!
We are not surprised as even the regular IAB reader will tell you that we don't know jack much about trucks and buses.
The truck spied here is the Scania V8 R500 model that boasts of big numbers - 500hp output and a payload capacity of 90 tonnes - twice as much of what you consider a 'big truck.'
Scania AB is a Swedish truck manufacturer currently owned by the Volkswagen group. Scania has been selling mining trucks in India for the last four years through L&T, which is its authorized distributor. So far almost 700 units have been sold.
After passenger cars, Volkswagen is taking a dig at the premium truck segments in India. There's competition here too, where Volvo trucks and Mercedes Benz Actros are chief rivals.
Scania AB has just laid foundation stone to a new facility at Narasapura near Bangalore for assembly and bus body building. Scania will now function under the name of Scania Commercial Vehicles India. The company is investing 250 crore to raise the assembly plant for bus chassis and body building. Plans are reportedly in place to launch a luxury coach, a multi-axle intercity bus along the lines of the Volvo 9400XL intercity coach. Smaller city buses are also under the anvil.
To start with, Scania plans to launch four new on-road trucks and a luxury bus. The power output of the trucks vary between 460 to 500 hp and can haul around 100-150 tonnes, which pits them against the Volvo FMX series.
The Indian heavy commercial vehicle segment is set to become more competitive with Scania entering the foray.