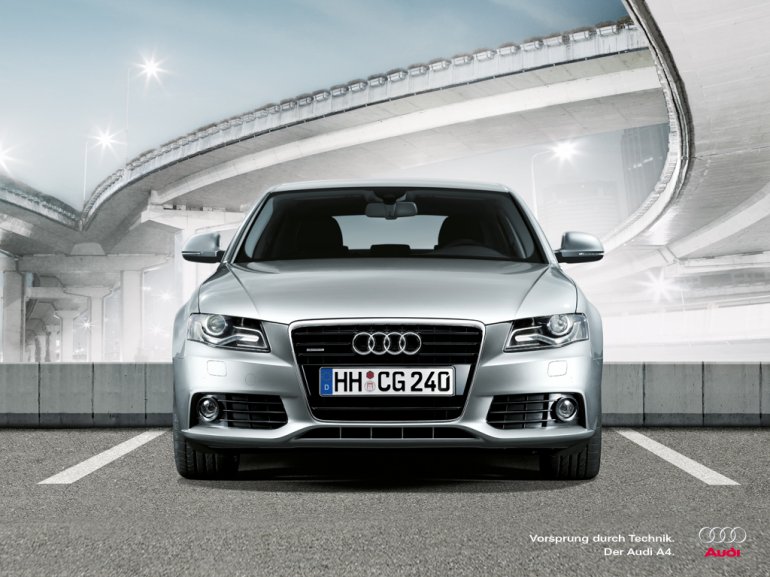 Audi, the German luxury car manufacturer, is on course to achieve top sales figures in 2008 in India. In the first seven months of this year, Audi India increased its sales countrywide by 163 percent to 595 cars (January – July 2007: 226 units). In the most successful month July sales grew by 525 percent in comparison to July 2007.
"True to our philosophy of "Vorsprung durch Technik", the latest sales figures show that we have made an impressive progress in order to achieve our ambitious goals", said Benoit Tiers, Managing Director of Audi India." We will continue to focus on the customer-orientated products for the Indian market. In coming months, the customers can expect new sophisticated and sporty luxury models. "The Audi model range is available in India at present in seven dealerships across the country: Delhi, Gurgaon, Chandigarh, Mumbai, Pune, Bangalore and Hyderabad. New facilities are being built in Ahmadabad, Ludhiana, Chennai and Cochin.
Globally too, Audi is on its way to another record year, setting new highs in vehicle sales, revenue and profit in the first half of the 2008 fiscal year. In spite of negative currency effects, essentially in connection with the U.S. dollar and sterling pound, the Audi Group grew its revenue by 0.1 percent to €17.387 billion in the first half of the year. Adjusted for exchange rate parities, revenue would have been 2.8 percent higher.
Audi brand deliveries to customers rose by 1.4 percent to 516,211 (508,842) in the first six months of the year. Amounting to € 14.852 billion, cost of sales was down 0.6 percent year on year, in spite of the company's expanded volume of business.
The Audi Group's profit before tax thus rose by € 267 million, or 24.2 percent, to a new record level of € 1.372 billion (€ 1.105 billion).

AUDI AG
AUDI AG develops and produces cars for the luxury car segment worldwide. The company achieved its twelfth consecutive record year in 2007, with 964,151 cars sold and a revenue of 33,617 million Euros and profit before tax of 2,915 million Euros, the company attained its best figures ever. Audi produces vehicles in Ingolstadt and Neckarsulm (Germany), Gyor (Hungary), Changchun (China) and Brussels (Belgium). At the end of 2007, production of Audi A6 started in Aurangabad, India. The company is active in more that 100 markets worldwide. AUDI AG's wholly owned subsidiaries include Lamborghini S.p.A in Sant'Agata Bolognese, Italy, and quattro GmbH in Neckarsulm. Audi employs more than 54,000 people worldwide, including 45,000 in Germany. The brand with the four rings invests more than €2 billion each year in order to sustain the company's technological lead embodied in its "Vorsprung durch Technik" slogan.
In 2007 Audi India, based in Mumbai, commenced its business activities. The Audi model range in India includes Audi A8, Audi Q7, Audi A6, Audi A4 and Audi TT and is available at present in seven dealerships across the country: in Delhi, Gurgaon, Chandigarh, Mumbai, Bangalore, Hyderabad and Pune.
IAB
Source : Audi India