While Royal Enfield has been in the news for the Classic 500 Pegasus edition and the upcoming 650 duo, we stumbled upon a YouTube video of a thumper from the two-stroke era. This 'Mini Bullet' uses a 197cc, 2-stroke, single-cylinder engine that produces 12.7 bhp of maximum power and 14 Nm of peak torque.
Also read: Royal Enfield Classic 500 Desert Storm 'stickered' into a Pegasus edition [Video]
The two-stroke sound from the made-in-England engine is captivating. The motorcycle is in proper working form too, and has been maintained well. At the front is a retro-styled headlight with chrome surround that is followed by a body coloured cover for the telescopic suspension. Under the headlight is a chrome fender that covers the wire-spoke wheel.
The hand painted fuel tank features an "Enfield" logo with a chrome filler cap. The fuel tank also gets "Made Like A Gun" sticker. The "200cc" and "Mini Bullet" brand name is painted on the side panel. The motorcycle gets a split seat setup along with a pillion grab rail tall enough to double up as the backrest. The stitching and the shape of the rider saddle add to the retro styling of the motorcycle. The pillion seat, on the other hand, is mounted on the rear fender that also holds the rectangular tail light. The rear fender itself gets a chrome finish, covering the rear wire-spoke wheel.
The twin-sided rear suspension also gets a chrome cover while the springs are in black. Other chrome bits include exhaust pipe, canister, and the engine cover.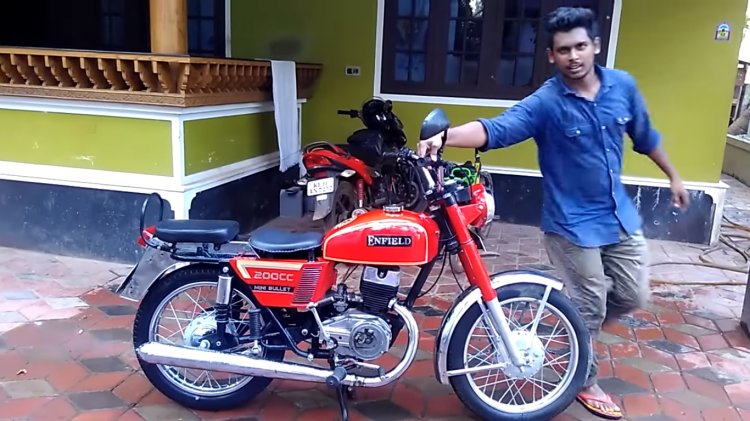 Also read: 6 Iconic Royal Enfield bikes - Constellation 700 to Super Meteor 700
The red paint of the motorcycle is complemented by golden highlights on the fuel tank and the side panel. Witnessing a retro bike in all its glory is a unique experience, and this Enfield Mini Bullet is no exception. Adding to the experience of watching the motorcycle in its immaculate form is the exhaust note from the two-stroke era that has been lost in time and emission norms over the years.