Rolls Royce have released a few more teasers of their upcoming Wraith and for the first time, we get to see a few interior parts of the car Rolls has been raving about.
The first image is that of the door trim the Wraith will be sporting. The Wraith is a two-door coupe and from the looks of it would be sporting frameless doors. Rolls says that the interiors would be luxurious and contemporary, to go hand-in-hand with the dynamic styling of the entire sports coupe.
To give you an idea of the materials that would be used on the most powerful Roller ever made, RR says that the leathers used are of the 'softest Phantom-grade' and the open pore wood called 'Canadel Panelling' is being used extensively as well.
Overall, the interiors have been designed keeping in mind an 'ultra luxury yacht', claims the British manufacturer. However, there is something that interests us in this photo and to take a closer look, we did some image processing of our own.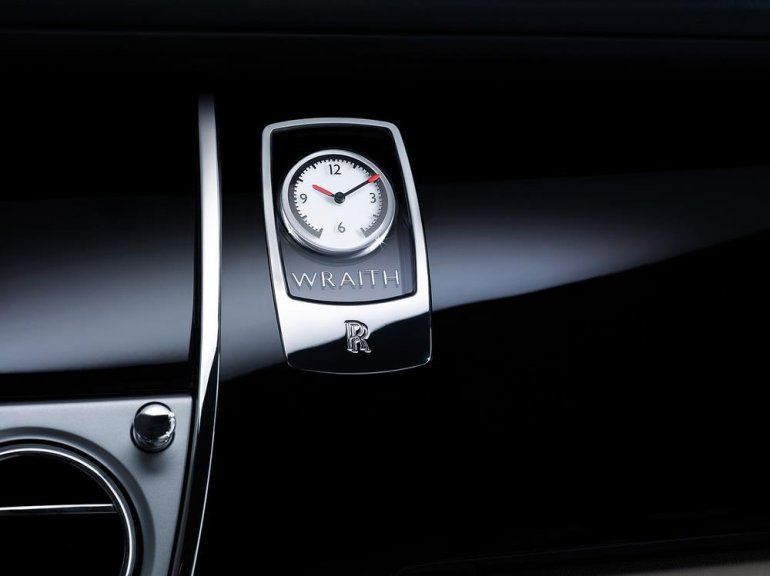 You can now clearly see the entire door frame of the car and the first thing that comes to mind is 'suicide doors'!
Now, suicide doors is something Rolls Royce likes doing a lot. Even on the Phantom Drophead Coupe, the suicide doors add some panache to the entire car.
There is another aspect to this picture that hints that the Wraith would have suicide doors. Look carefully at the right hand side and you can see the groove for the door lock as well. This would definitely mean that the doors open in the 'suicide friendly manner'!
Other bits and pieces on the door are a la Rolls Royce: the carefully sculpted buttons for the window controls and the door latch.
Rolls is very keen that the Wraith is perceived as a 'sporty car'. Testament to this is the interior clock! Rolls say that the 'Blood Orange needle tips point to the car's dynamic potential, while paying homage to the marque's aviation heritage.'
The Wraith is set to be officially unveiled at the Geneva Motor Show on March 5th.