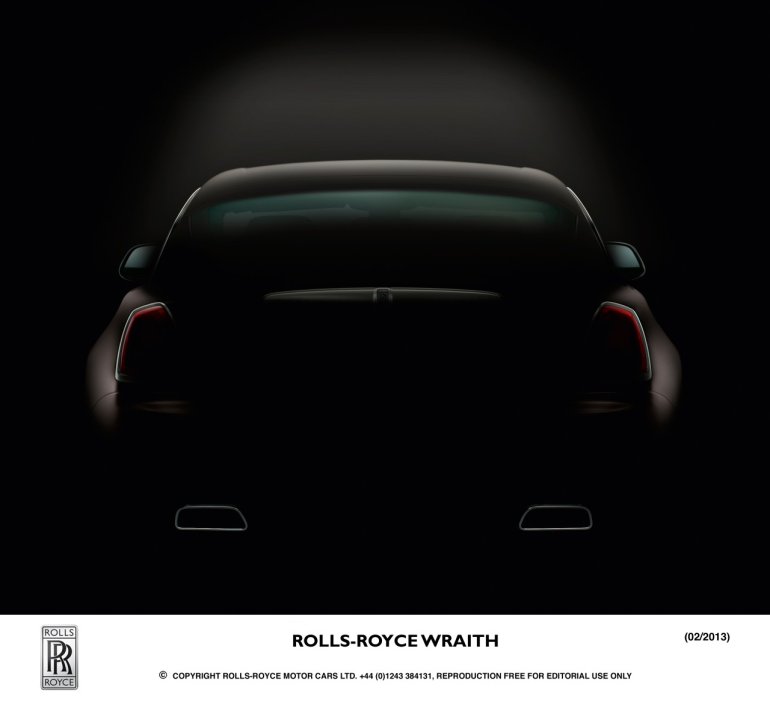 A Rolls Royce with dual chrome exhaust? Tells a lot about the upcoming Rolls Royce Wraith, doesn't it?
Rolls Royce continues to test our imagination by dropping shadowy images of the upcoming Ghost Coupe christened Wraith. In the latest teaser image, one can view the rear of the car fitted with a set of chrome tipped dual exhaust pipes.
The shadowy image also reveals large taillights and muscular rear haunches hinting at a very bold design.
Its funny and weird to say this - The Wraith is a sporty Rolls Royce.
It will have a coupe style 'fastback' roof line and a massive 6.6-liter, twin-turbo V12 under the bonnet. The engine is expected to produce over 600 hp, making it the most powerful Rolls Royce there has ever been, and is mated to an eight-speed ZF transmission.
Thanks to this nuclear bomb under the bonnet, the Wraith should sprint to 100 km/hr from a standstill in under 4.7 seconds despite the estimated 2,300 kg curb weight.
BMW, the current owners of Rolls Royce, will endow the Wraith with a lighter chassis, stiffened suspension, upgraded brakes and new tires. A few camouflaged prototypes were photographed during their testing program at the Nurburgring race track last year. James May wouldn't be a happy man if he's reading this.
The world premiere of the new Roller is scheduled at the Geneva motor show in the first week of March. A convertible version should follow suit, sometime in 2014.
Rolls Royce has promised that the Wraith possesses a character defined by power, style and drama. We can't wait to see it in flesh!