The restoration express has taken another halt at Rajasthan based avid collector, Devashish Jethwani's garage. After his neatly 1973 restored Jawa 250, we received images of another retro-classic, a Yezdi Classic 175. The motorcycle gets a custom sidecar, featuring an illuminator and a tall windscreen. The sidecar gets the same shade of blue that is also seen on the Yezdi Classic 175 while the graphics are also designed to match those on the motorcycle.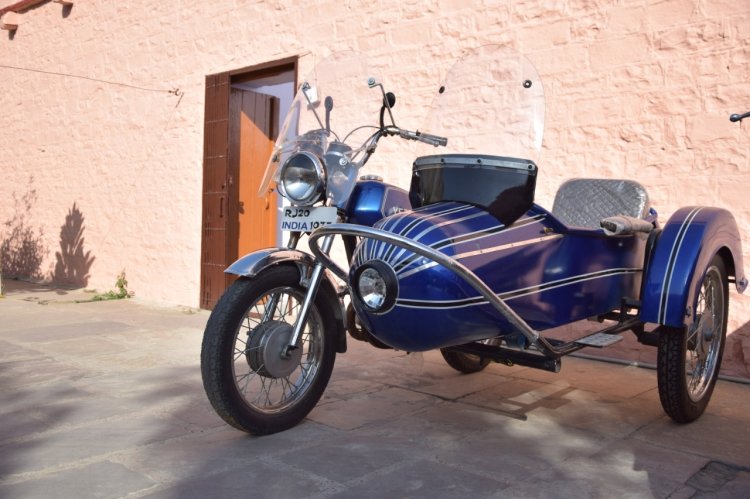 Also read: Check out this neatly restored 1987 Yezdi 350 Twin
The sidecar gets a wheel cover to avoid brushing the passenger's hand against the tyre while an armrest ensures enhanced comfort. The passenger backrest in the sidecar also gets a diamond pattern stitches that add a premium look to the package.
The motorcycle retains most of the factory parts. Thus, the fascia gets round headlight with chrome mask. The front fender, crash guards, fuel filler cap and rear spring covers get the chrome finish as well. The motorcycle is seen with two handlebars. The one with the sidecar gets the original steering bar while the photographs of the bike without the sidecar features Ape hanger handlebars. A tall windscreen ensures protection against windblasts.
Closer inspection on the photographs without the sidecar would reveal the unique side stand. The stand in the images is the original unit that came as an aftermarket accessory for Jawa and Yezdi bikes. The side stand would fit on the leg guard and had a reverse spring system.
The spec sheet on this rare model includes a 175cc, air-cooled, two-stroke engine that churns out 9.5 bhp of max power at 5,500 rpm and peak torque of 14.27 Nm at 4,000 revs, and could propel the motorcycle to a top speed of 95 kph. The motor came mated to a four-speed transmission.
Anchoring tasks are performed by 160 mm brake drum with twin cam double leading shoe at the front, and 160 mm brake drum with a single cam single leading shoe at the rear. Conventional telescopic forks at the front and twin-sided springs at the rear handled the shock absorption tasks on the Yezdi Classic 175.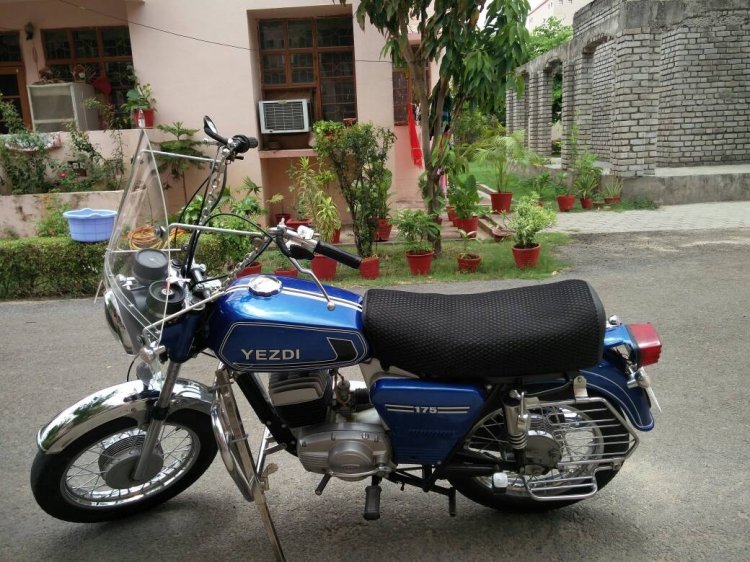 Do you own a classic? What are you waiting for! Write to suvil@indianautosblog.com with pictures and details to get it featured on our homepage.