Retro-styled motorcycles have a special place in our hearts, and repeatedly we come across neatly restored examples that bring back the classics from decaying conditions. One such motorcycle that came to our attention was a Yamaha RD350, refurbished by Prateek Khanna of Bluesmoke Customs. He is the chap who was also responsible for saving a 1984 Yamaha RD350 and upgrading its braking setup with a front disc.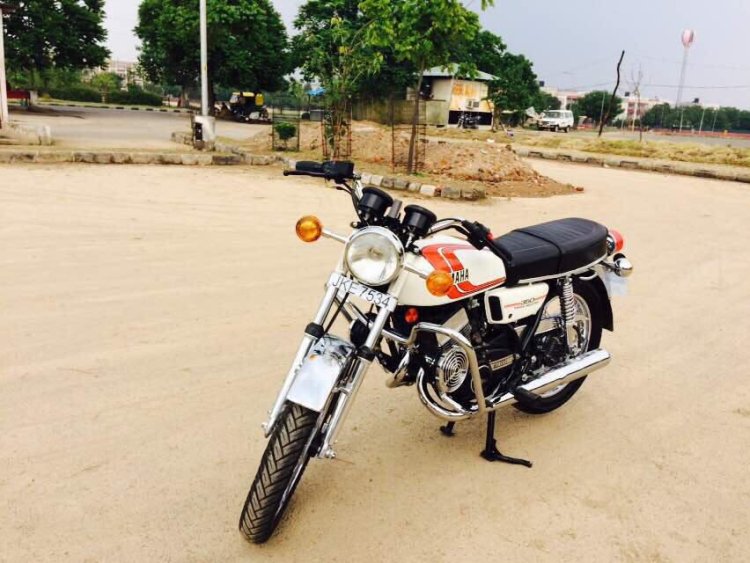 Also read: Modified Yamaha RX-135 by Royal Custom has the best of Japan & Austria [Video]
The condition of the restored 1985 RD350 is picture perfect as the new paint and chrome make it look as good as a brand new bike. The fascia features the original headlight with a chrome mask. Blinkers accompany the headlamp and are mounted on a chrome panel. Front fender gets a chrome finish too that adds to its retro charm. Behind the headlight is the stock instrument console that features a twin-pod design.
The fuel filler cap's placement has not been changed, and a chrome unit continues to occupy the centre of the lean tank. The flat saddle features a belt in the centre. A compact, single-sided pillion grab rail on the left ensures convenience to the passenger without disrupting the styling.
The motorcycle receives a 2K vacuum paint. Subtle graphics harmonise the white colour on the fuel tank and the side panels. Chrome finish to the crash guards, engine head, chain cover, dual sided exhaust and the rear fender enhance its looks. The rear is finished by the stock tail light and blinkers.
The engine has been re-done with standard original ART piston, crank with original Yamaha con-rods, while all gear bearings have been changed with new ones. For reference, the High Torque version of the motorcycle made 30.5 bhp, while the Low Torque variant churned out 27 bhp. The wiring is redone, and Prateek has installed a brand new point (DAICHI made in Japan), new Roots Horn and a new Exide Battery on the motorcycle.
The anchoring department has received an upgrade as the restored Yamaha RD350 uses a petal-type disc brake at the front. At the rear is a drum unit.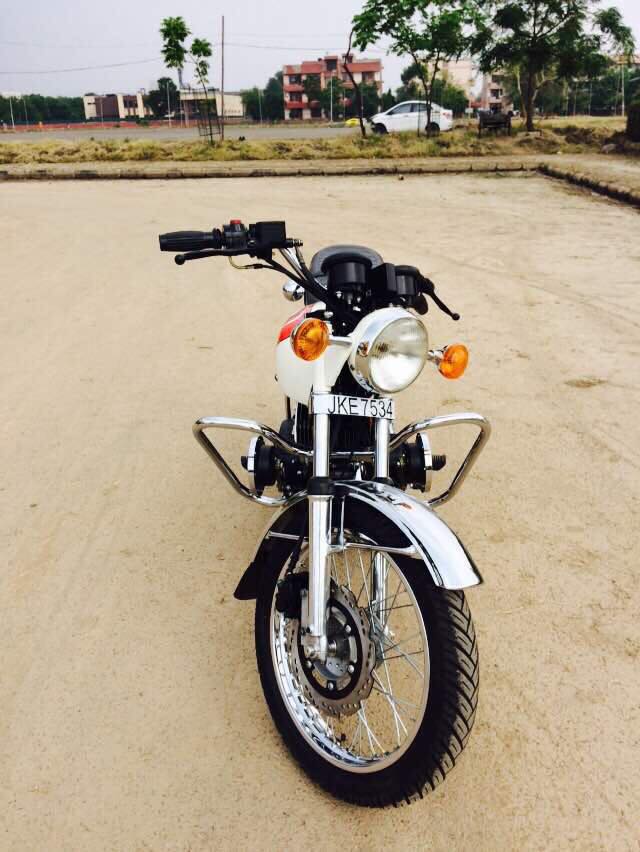 Also read: IAB reader's restored Kawasaki Bajaj 125 RTZ looks picture perfect
The Yamaha RD350 is indeed a gorgeous motorcycle, and Prateek ensured that this one is given the treatment it deserved.