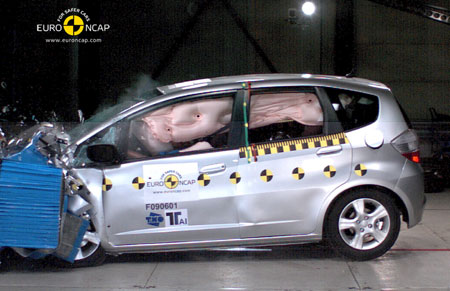 Economic Times is reporting that the Honda Jazz, which will be launched in the country next month, will be priced at 6.5-6.8 lakh rupees. Obviously, the pricing quoted above stands for the base model and the bells and whistles version will cost miserably substantially more.
The Honda Jazz is a voluminous hatchback, if I have to describe it. It will initially come only with a 1.2-liter 90PS petrol engine. The diesel model isn't viable since it will cost quite a lot over the petrols pushing it beyond the Indian hatch buyers' budget.
I still cannot see where Honda is going with this model. How many of us are willing to buy a hatchback for 7-lakh rupees and more? I agree that Honda's cars share common veins which are best quality, unmatched performance, looks and comfort, but at 7-lakh rupees, all that takes the back seat.
Maybe Honda is under the shadow that whatever it introduces in India invariably performs well and is overconfident about Jazz's strengths? Maybe Honda wants to verify the Indian jinx by introducing such a car that others would only dream of?
This model will decide whether Honda is incredibly smart or inconceivably stupid.
Honda is also seeking approval for its next small car from its parent company in Japan. The new car, which is a few years away, will be more fuel efficient than the competition, designated as the world car and carrying the 'Made in India' sticker.
Source - Economic Times