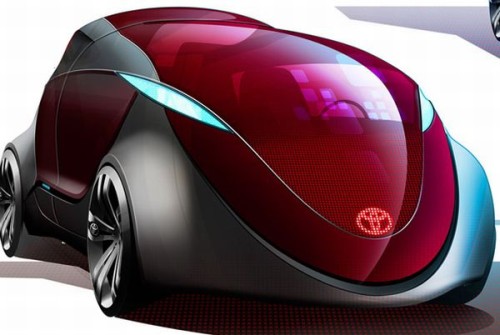 What you see in the picture above is the creativity of Toyota's Tokyo Design Studio folks. This is an illustration of how radical utility vehicles and minivans could look in the future.
The artists got their inspiration from Japan's Bullet train and Tokyo's futuristic river boat. The car with its flowing contours look too good to be built into a car.
The designers seem to have taken Toyota's 'Going Green' approach a bit too seriously as they have 'planted' a tree in the middle of the extended center console. :) Is that bonsai or will it grow through the roof? The sun roof finally found a purpose for the Indian customer!
The car has been given transparent door panels, and a panoramic roof that gives a scenic view of the surroundings.
The car also has a little seat which can revolve 360°, this is for curious kids.
Though this wouldn't be the related to the 2nd generation Toyota Innova, these styles and design cues could be carried over to the third generation Innova?
Toyota's concept -
Source: Automotto