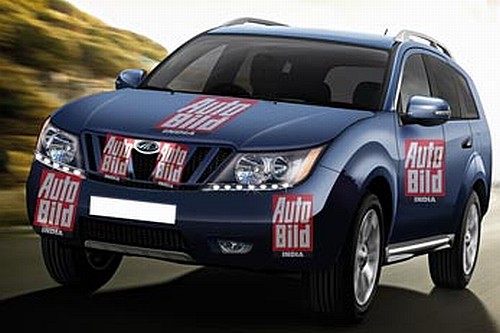 Here we have a rendering of the Mahindra World SUV, which seems to have been in development for ages. The Mahindra World SUV (codenamed W201). The World SUV which is expected to be the first Mahindra to built as  a monocoque structure, would be ready for launch by mid 2011 and would be Mahindra's big ticket to 'conquer' international markets.
Coming to the looks of the car, the W201 is incredibly huge and has an imposing presence and could easily rival the Ford Endeavour and Toyota Fortuner. The car's headlamps would look sharp (like the Kia Sorento) and have day time running lamps.The car would run on giant JK Tyre Elanzo 235/55R17 rubber.
When IAB had a close encounter with the World SUV we were pleased with the quality of plastics and felt it was good for a Mahindra and now after experiencing the Tata Aria we feel the quality of plastics in the W201 would leave a lot to be desired. Hopefully Mahindra addresses this issue on the final production version atleast.
Mahindra is painstakingly developing the W201 and the reason why the SUV is taking to long could be the new range of next gen diesel and petrol engines the company is developing. Also the W201 would come with a horde of safety features. We shouldn't be surprised if Mahindra comes out with a hybrid version of World SUV (or at least a micro hybrid ;-))
Click here for Indian Autos Blog's exclusive renderings of the Mahindra World SUV.
Source: Autobild