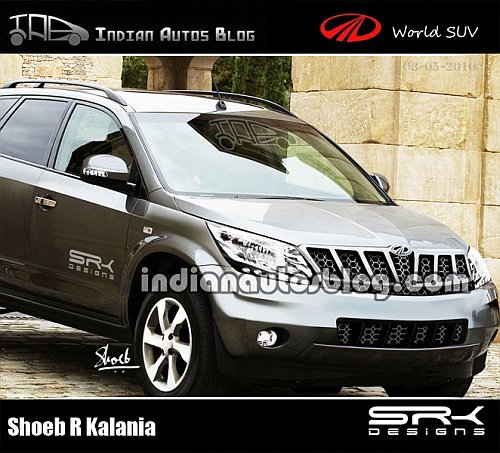 Based on the latest spy shots and video footage of the Mahindra World SUV test mules, SRK has tried reproducing the front-end of the World SUV using an image editor. He brought out a drawing of the World SUV last year purely based on Mahindra's existing model portfolio, and it has to be agreed that the previous drawing wasn't very far away from this one.
The saw-tooth grille, heavily worked hood, typical SUV lines, flared wheel arches and bulky tires are understandably present on this Mahindra vehicle as well. The vehicle's headlamp appears to have adapted itself from the Xylo and the daytime running LED lights add elegance (hopefully they aren't turn signals). The somewhat rounded front-end is reminiscent of the Honda CR-V.
Having no additional angles to reveal, it isn't hard to imagine how the rest of the vehicle will add up. The World SUV is expected with every feature possible including climate control, electric seats, satellite navigation, cruise control, etc. Mahindra should undeniably offer a better automatic transmission on this vehicle. Petrol engines could also feature in the line-up, a sub 3-liter V6 petrol is what I dreamed driving on this vehicle last night on a vehicle costing 12 lakh rupees.
Mahindra are busy testing this vehicle in Chennai and millions have seen them over the past few months. The vehicle will have the Xylo's steering wheel along with the saw tooth grille. Perhaps it could also borrow the squared gear knob?
Mahindra World SUV higher resolution image