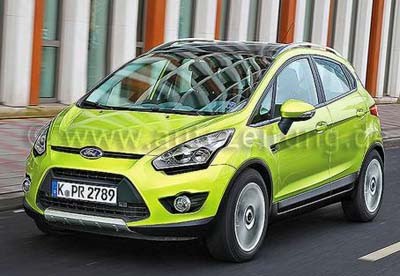 This rendering is slightly confusing as the outgoing Fusion resembles the Figo and is also based on the same platform.
The Ford B-Max is a derivative of the Ford Global B-Platform will be the Figo mini MPV, if it ever makes it to India. Ford has mentioned to sections of the media that it is developing a SUV, but hasn't elaborated. Our hunch is Ford could be using the Figo's platform for this SUV.
Coming back to the Fusion replacement, the vehicle could use design cues from the iosis MAX concept unveiled several months ago. If the MPV is thoroughly redesigned and not just a Figo in high heels, then we can expect a complete interpretation of the Kinetic Design language seen on the European Fiesta bumper to bumper. The shape of the car will be similar to the Euro Fiesta, and the update will also result in better interiors.
Fiesta hardware doesn't include the engine as reports of a new generation of smaller capacity Ford turbo petrol engines – 1.0 litre with outputs from 90-110bhp could find their way under the B-Max's bonnet.
We hope Ford will talk about this model in detail in the coming months as the vehicle could be produced in Romania and even in America in the next couple of years.
Source - Autoten
Rendering credit - Autozeitung