Automobile Magazine France has reported that Volkswagen will work on the MQB platform to build an SUV measuring about four meters long.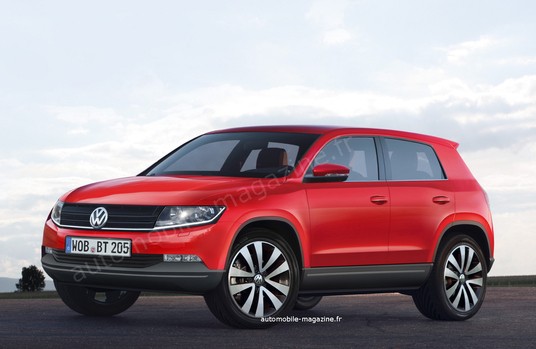 The SUV's footprint could be the same as the Polo's but not much otherwise will be common to these models.
The report outlines the massive scale of success Nissan's Juke has enjoyed in Europe. It has led to the emergence of a huge selection of competing crossovers, jostling to eat into the Juke's market share. The Peugeot 2008, Renault Captur, Opel Mokka, Chevrolet Trax and Ford Ecosport have been developed in a hurry to satisfy the desire for an urban crossover in Europe. Some of these models are also destined for India.
Volkswagen will arrive late in the scene but they need not panic as the Tiguan and Touareg, their two strong performers in the SUV segment, were also late to enter the race. The new SUV is unlikely to touch down before 2015. Note that the baby SUV, rendered above, is not like the CrossPolo, a disguised Polo hatchback, but a full-blown urban crossover that will take advantage of the MQB platform's flexibility in offering a range of powertrain options and layouts.
We hope to see Volkswagen introducing this model in India during the mid-decade. Ideally, the positioning of the mini SUV should be between the Polo and Vento.
[Source - Automobile-Magazine.fr]