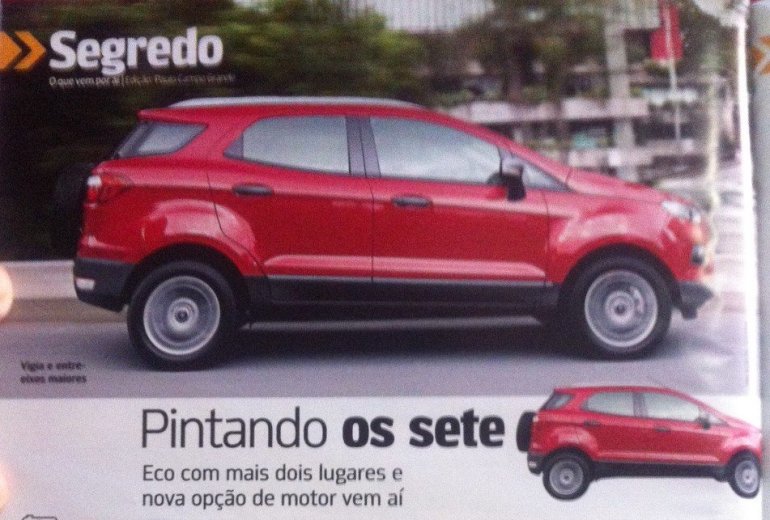 Earlier in December, we presented a story that was running hot in Brazil on the Ford EcoSport spawning a 7 seat version.
Today we have a rendering of this future variant presented on Brazilian monthly Quatro Rodas. The scan was uploaded on Facebook.
The EcoSport is a strict 5 seater, and there's no room for jump seats behind the bench. The EcoSport cannot be made longer as it won't fit the sub-4m length specification that brings excise concession, critical from the point of pricing the EcoSport lower than rivals.
As the Chinese market does not have such legislation, Ford could tweak the dimensions, improving the length by 39mm, and the wheelbase by 9mm.
Come mid-decade, Ford will launch a family-specialist version of the EcoSport with a 10cm longer rear overhang to house the third row of seats. Brazil could be the first to get the 'Grand EcoSport' with 1.5L, 2.0L and 1L Ecoboost engine options. The South American market is listing a Powershift (AT) and 4WD options in the five seater and some of these technologies may be transferred into the seven seat version to add substance to its capacity of the variant flagship.
Ford India will first want to shed the balancing wheels before pulling stunts with the EcoSport's launch.
The need for the seven seater is felt especially in India where an SUV is the vehicle of choice for joint families. The EcoSport, in its original form, may be addressing a different target group, but the seven seater version can work on widening its appeal, incrementing volumes.
Ford has to do every possible variant to keep the EcoSport sales up. Maruti, Honda, Mahindra, Tata, Fiat, Hyundai and Toyota are believed to be working on their own EcoSport to unlock volumes from the Indian market in the next three-five years.
[Source - QuatroRodas.abril.com.br]