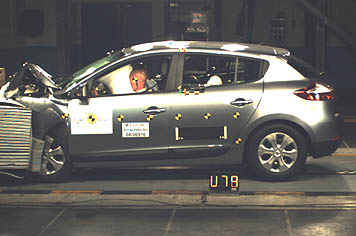 India-bound 2009 Renault Megane has attained maximum 37 points in its Euro NCAP crash test. This will very likely become the safest vehicle on four wheels in India when it goes on sale in 2009.
The only vehicle apart from the Megane to have accomplished this feat is the Nissan Qashqai SUV. Due to new headrests and a heap of other advanced safety features, the Megane has joined the Qashqai as the highest scoring car in the industry-wide benchmark program.
In total, six airbags have been appointed on the new Renault Megane, with two twin-chamber thorax/groin airbags in addition to 'intelligent' side-impact sensors first used on the latest iteration of the Renault Laguna.
The new design of the headrest will also leave the Megane in a beneficial position for the upcoming revised Euro NCAP tests. The revised headrests permit the passenger's head to sink further into the curved headrest, lessening the likelihood of damage to the neck vertebrae.
The revised rating system is scheduled to be introduced in February next year. These will include a single overall star rating rather than the current system of three categories. Soon, we will also have Indian Standards once the NATRAX (National Test Tracks Pvt Ltd) and NATRIP (National Automotive R&D infrastructure Project) projects initiated by the Central Govt are completed.
IAB Comment- That's good news for Indians but it is unclear whether Renault will bring the Megane with all the airbags and safety features found on its European version which has triumphed in the crash test. Installing all the safety devices will increase the cost, but that shouldn't stop them from releasing the top-end variant with all the features.
Safety is not only the high point of this car. A range of dCi and TCe powerplants, among which with two diesel engines, enjoy CO2 emissions equal to, or less than, 120g/km, making this car an eco-friendly one.
Source : AutocarUK