Global NCAP has crash tested three variants of the Renault Kwid, but has awarded all of them 0/5 stars for AOP (Adult Occupant Protection). Note that all cars were tested at 64 km/h. Following is the summary of the Kwid's crash test results.
1. Renault Kwid (I)
[YouTube link]
This Kwid was among the first batch of production cars, and was tested without any safety features (i.e) not even the optional driver airbag was installed on it. Unsurprisingly, it scored 0/5 in AOP, but fared 23.89/49 for COP (Child Occupant Protection) which translates to a score of 2/5.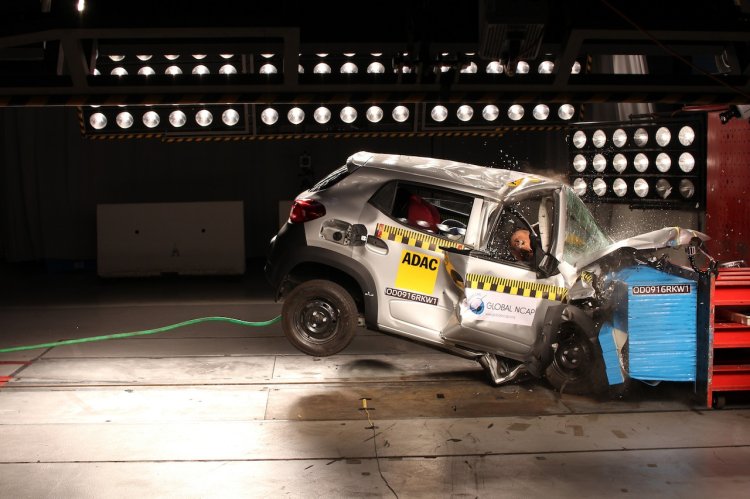 The bodyshell integrity was rated as unstable, and Global NCAP says it will be unable to withstand further loading. The report notes that protection offered to the driver head and chest was poor and the passenger's chest received marginal protection. The passengers' knees could impact with dangerous structures in the dashboard, the report concludes. Over 18,091 units of this Kwid were produced.
2. Renault Kwid (III) without airbag
[YouTube link]
This batch of the Kwid was produced from April 2, 2016, and over 5,000 units have been made. Global NCAP states that Renault calls this version "an updated evolution of the Kwid", which was supposed to have better safety levels.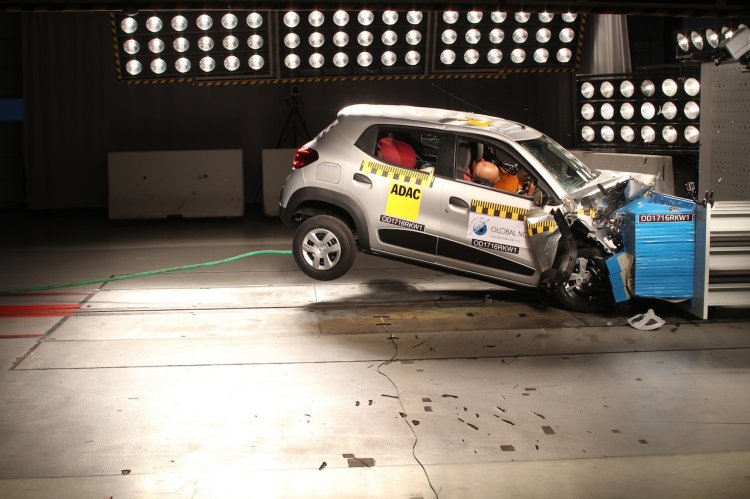 However, this version too scored 0/5 in AOP and 2/5 in COP. According to Global NCAP, the structure did not collapse however it is still unstable, and cannot withstand further loadings. The testing agency notes -
It was possible to see the structural reinforcements implemented in this version of the Kwid but when Global NCAP checked the left (passenger) side, there were no reinforcements. The structure was reinforced only on the driver side.
3. Renault Kwid (III) with driver airbag
[YouTube link]
The structurally reinforced Kwid was also tested with a driver airbag, which is provided as an optional extra on the top-end variant. However, this version also scored zero stars in AOP and two stars in COP. The protection offered to the driver's head and neck by the airbag was good, the report states.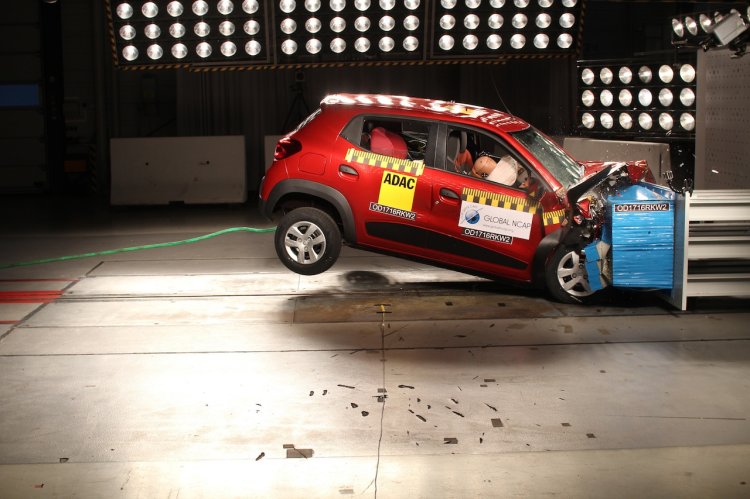 According to Global NCAP, Renault will implement further improvements to the Kwid and Global NCAP will test these new evolutions in forthcoming crash tests. An improved version of the Kwid (Kwid IV) has already entered production on May 9, 2016, the testing agency states. It is yet to be tested by Global NCAP though.
Renault Kwid (I) Crash Test Report
[Slideshare link]
Renault Kwid (III) Crash Test Report
[Slideshare link]
Renault Kwid (III) with airbag Crash Test Report
[Slideshare link]