Renault India, in its second innings, has launched its first car Fluence at Rs. 12.99 lakh rupees for the diesel variant. The 2.0-liter petrol variant is priced at Rs 14.40 lakh. Both prices are in ex-showroom New Delhi.
The company will begin its voyage with 14 outlets in 14 cities. It's ambition is to expand to 70 cities with 100 outlets by the end of 2012. By 2014, it hopes to be in the top 3 international car manufacturers in India.
Exclusive to India on Renault Fluence -
1) India is the only RHD market in the world to have beige interiors.
2) Digital speedometer on both petrol and diesel variants is another first for India for Fluence.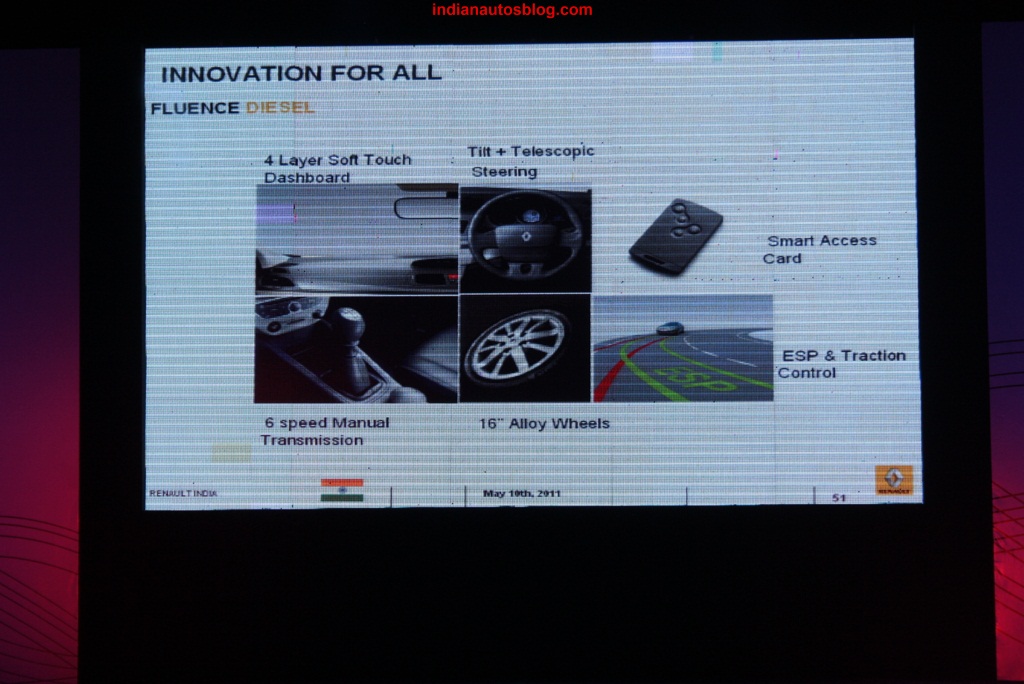 -
3) Renault hiked the ground clearance on Fluence to suit our conditions better.
4) Air-conditioning system has seen a few changes to suit our hot weather conditions.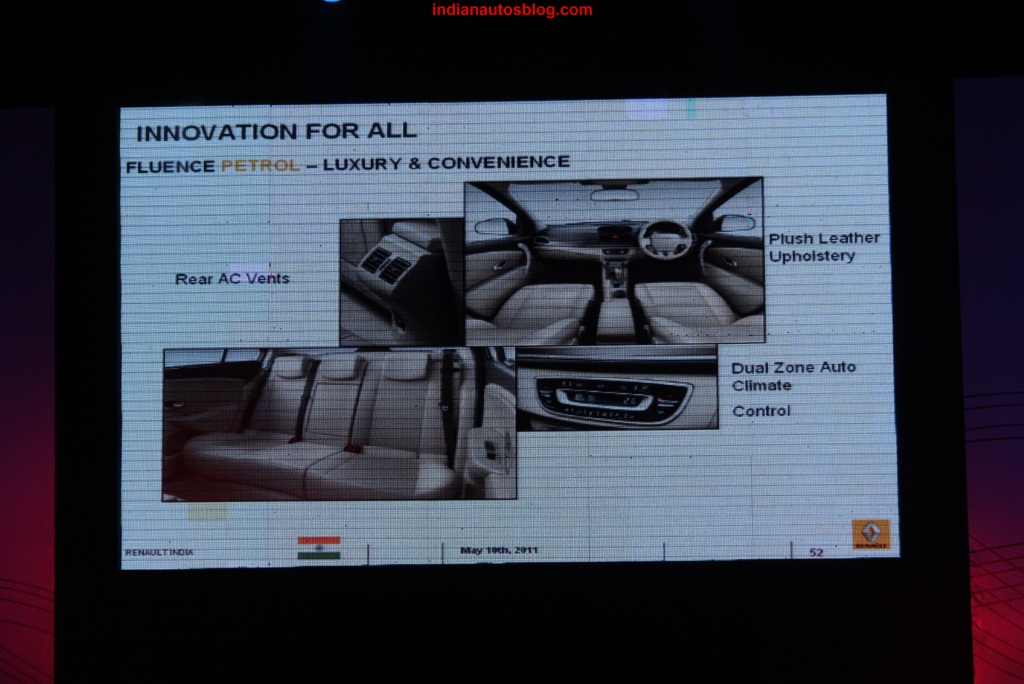 -
5) ECU calibration was also done to adapt the car to our driving conditions.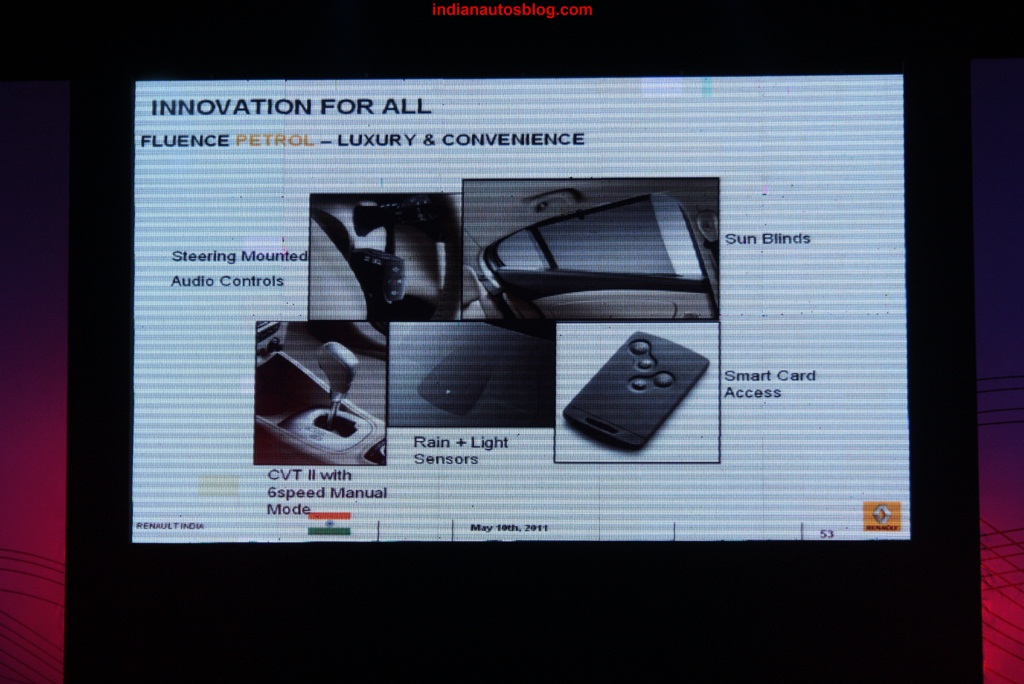 -
Strategy with Fluence -
- Renault, unlike Nissan, will not spend on a brand ambassador. The money instead will go into marketing its products in a innovative manner. Globally Renault does not use brand ambassadors.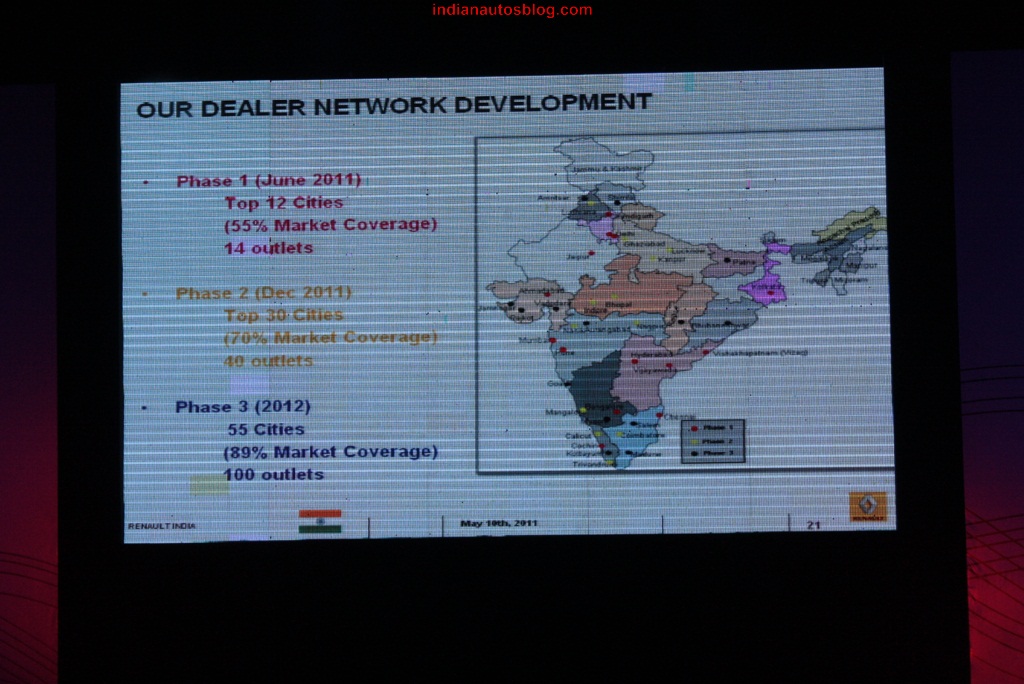 -
- There is zero coordination between Renault and Nissan on the pricing front.
- During the product study, Renault concluded that India will accept the Fluence in the area of premiumness and the upper end of the segment.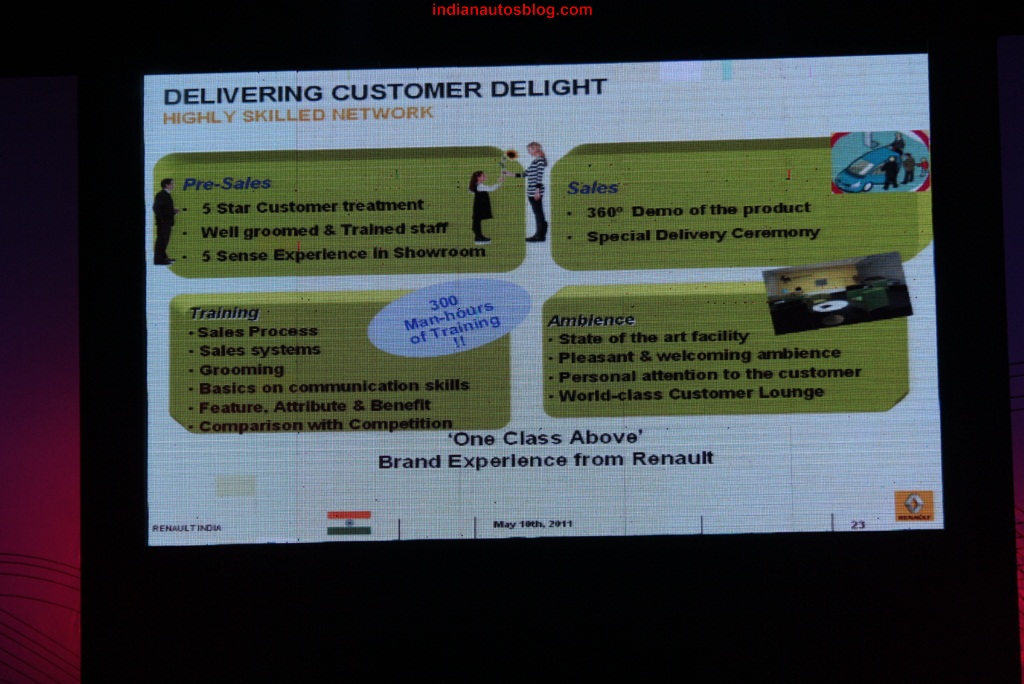 -
- It believes that demand will eclipse production. About 1,800 vehicles will be put on the road by December 2011.
- There is very little localization on Fluence.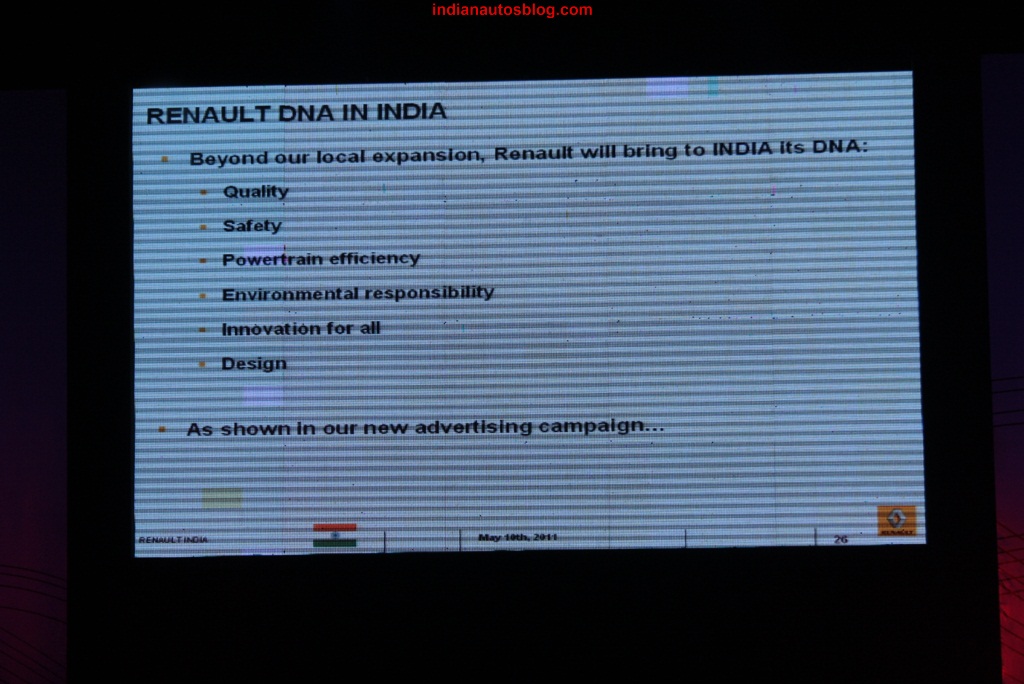 -
- As this is a CKD model, the product isn't 100% adapted to our market. There are some minor irritants, the company agrees, which it will work to eliminate (eg - indicator stalk on the wrong side). Its products in 2012 will benefit 100% from learnings here in India.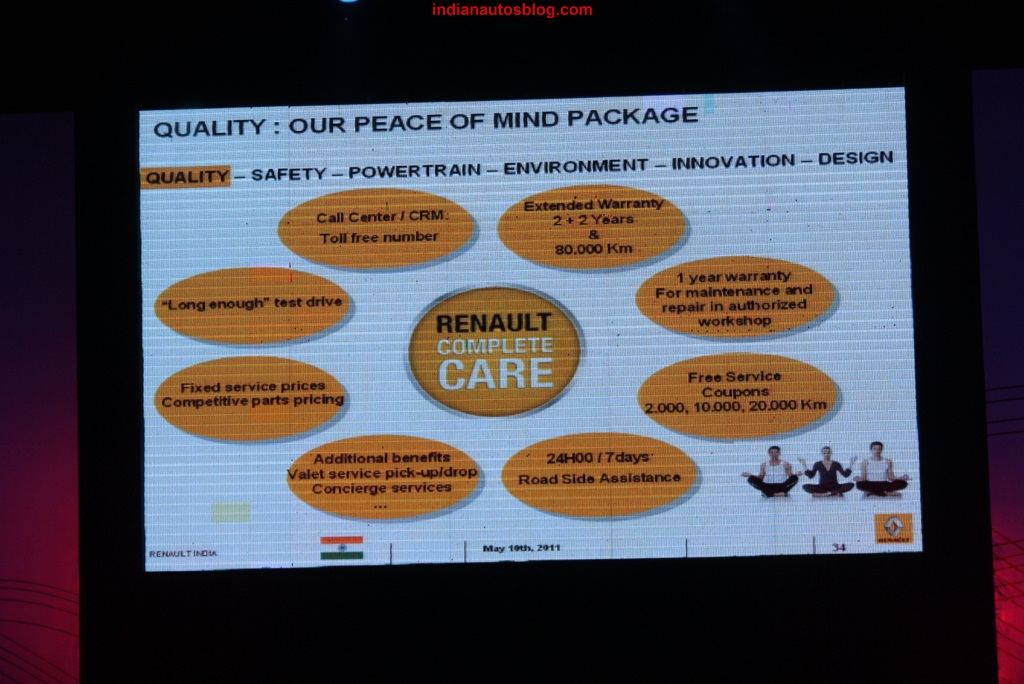 -
- Price will never be the reason why people will buy Renault. The company will not market products with price.
- Renault's study has shown that petrol customers have no complaints with higher operating costs and spend more on a car while the diesel customer is economy-driven.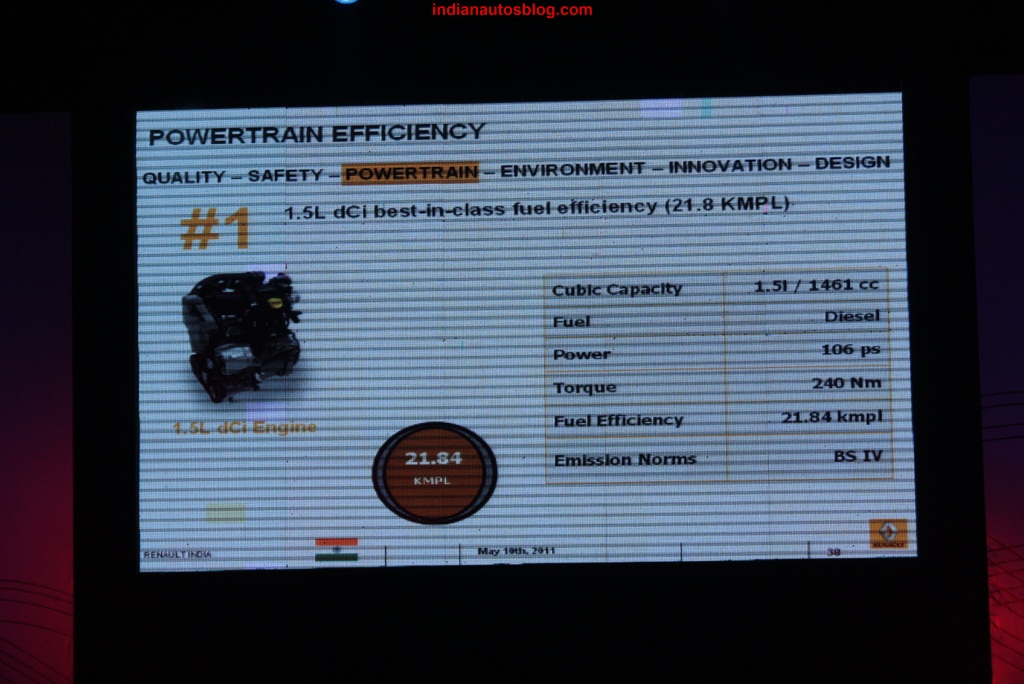 -
- Renault' design studio in Mumbai played a role on the Fluence' seat fabric and colors.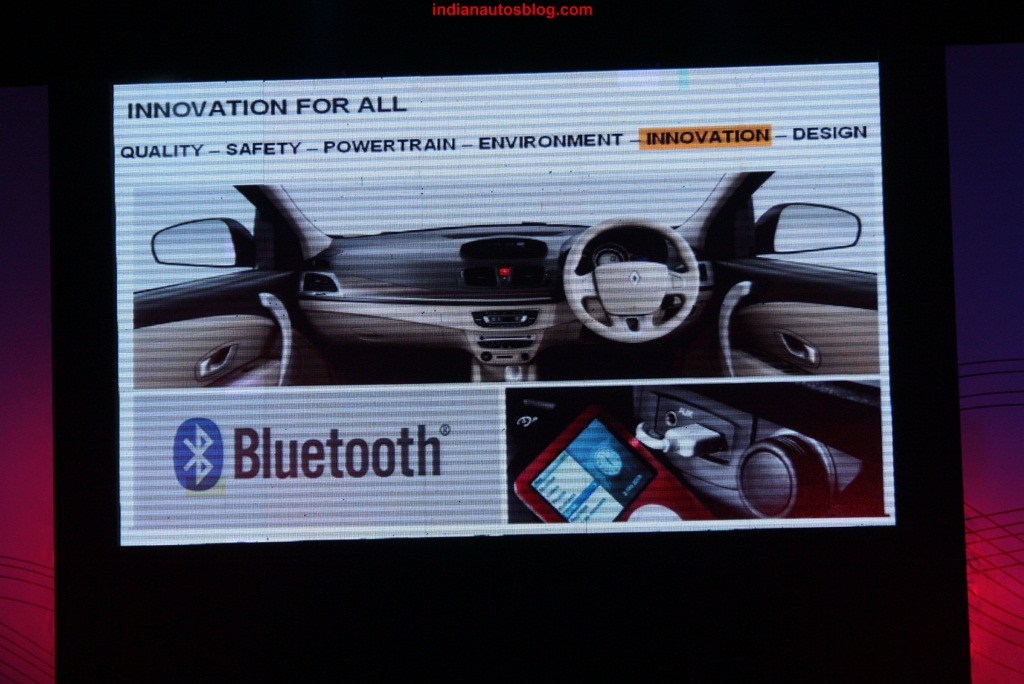 -
- Renault tested the Fluence in India for 1 lakh kilometers on various types of terrains and climatic conditions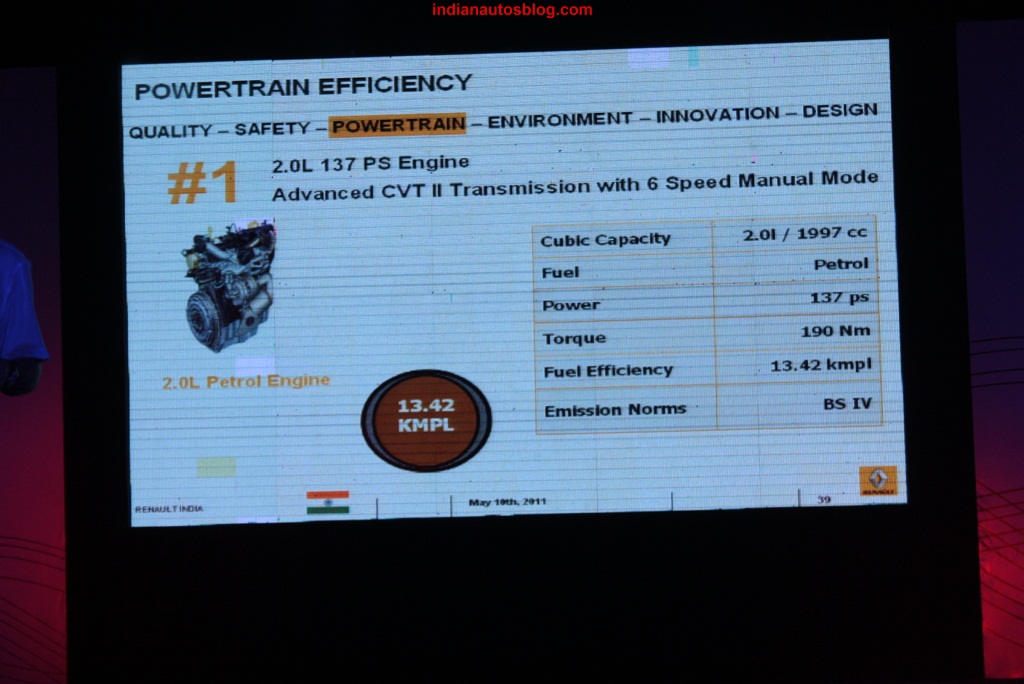 -
- Renault sold 130,000 Fluences across the world in 2010
- Every Indian dealership will have a co-tech. A co-tech is a Renault-trained officer who knows products inside-out.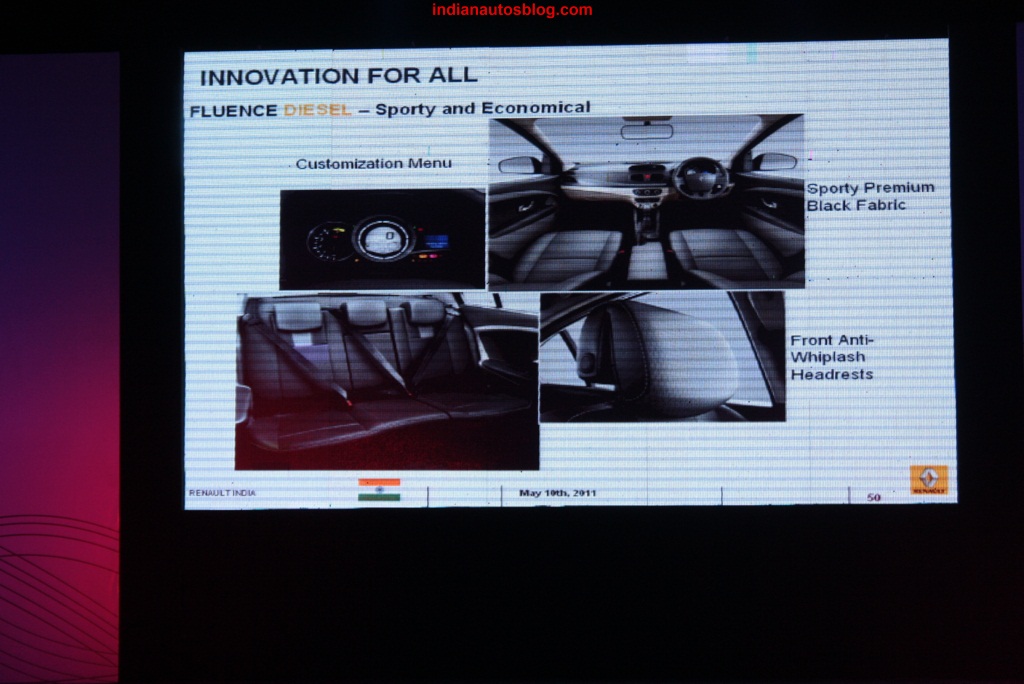 -
- Renault's study indicated black interiors are preferred by people who drive themselves and beige by those who appoint chauffeurs.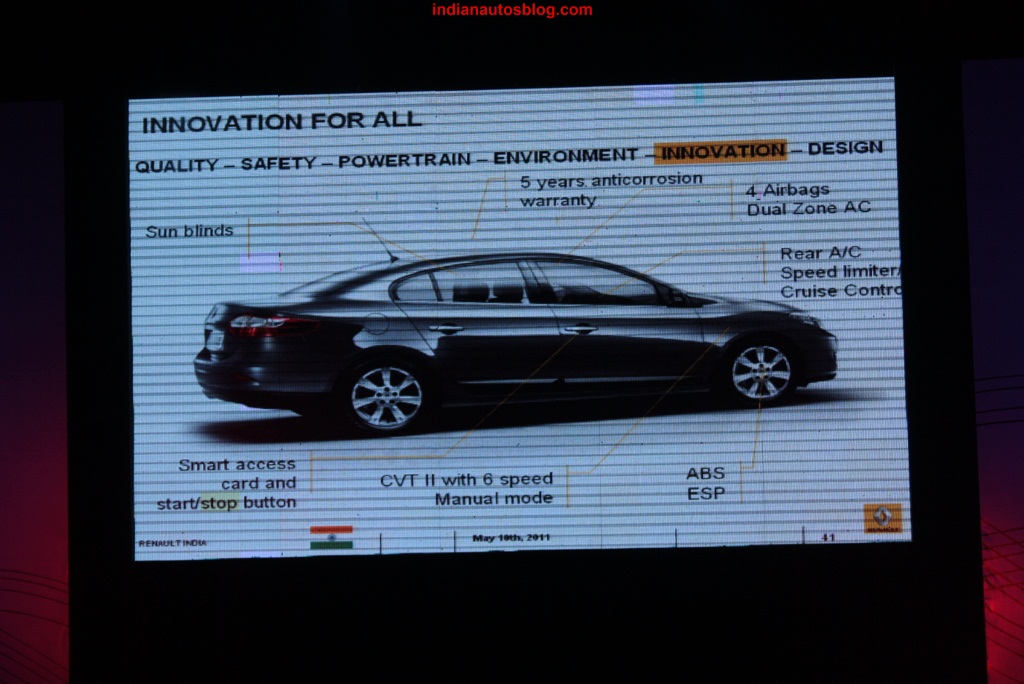 -
- The study also showed that Fluence looks better than Jetta, Cruze, Laura, Cruze and other classmates for Indian customers.
- The Fluence secured a 4-star rating in the EuroNCAP crash tests and it will be used in the marketing material.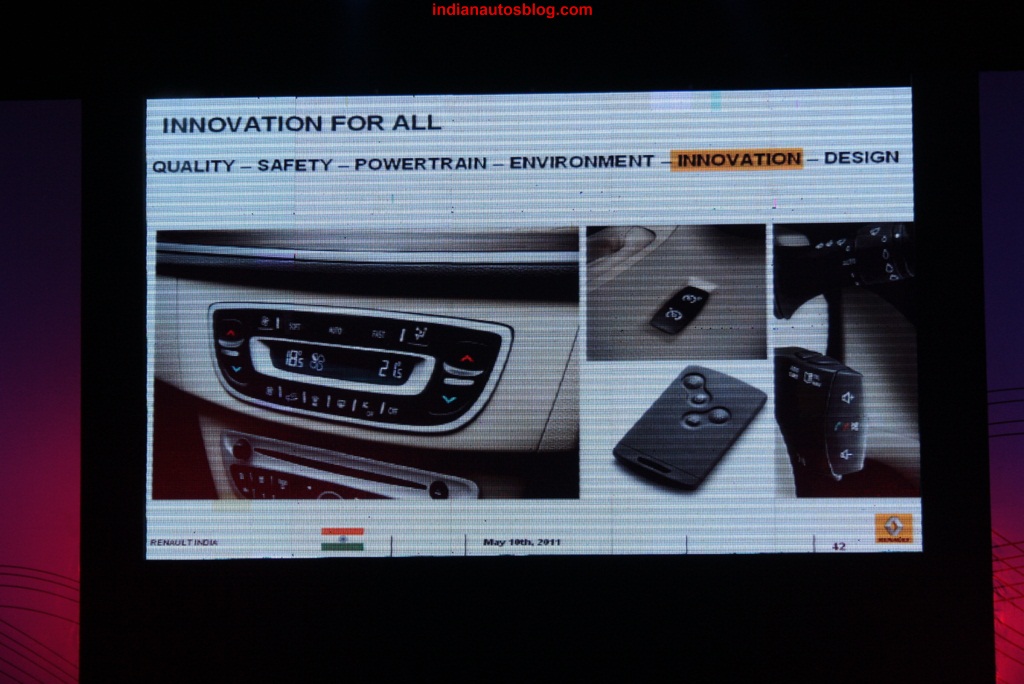 -
- Renault doesn't mind customers mispronouncing the name. Unlike Volkswagen, it will not display the name in block letters on the back of the vehicle.