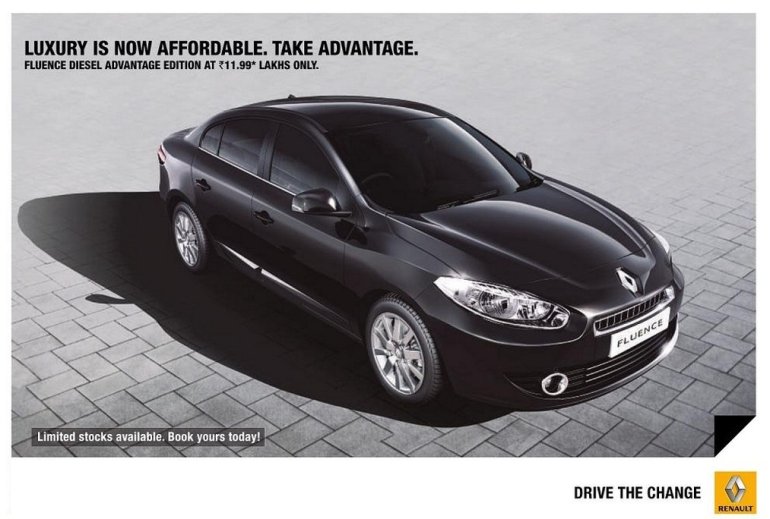 'Cut-Price' seems to be the mantra for success in the Indian Auto market. A lot of manufacturers are introducing cheaper variants of their existing lineup to attract a wider audience. A cheaper variant not only makes the product more attractive when comparing it with rival propositions but it also make the product an aspirational upgrade.
So Renault has decided to test this mantra by launching a limited edition cheaper Fluence variant called Advantage Edition. The Renault Advantage Edition is yours for 11.99 lakhs, ex-showroom Delhi that's a whole 1.64 lakhs cheaper than the Diesel E2. Considering this is a limited edition, we think that this is a stock clearance sale.
The Renault Fluence Advantage Edition comes with features like Fog Lamps, EBD, ABS, ESP, power windows, steering adjustment etc. Most luxurious features have been left out such as Parking sensors, Traction Control, Leather seats, Rear AC vent, Sun Roof, etc. No changes to the engine or other mechanicals.
The Fluence Advantage Edition should not be confused with the new E4 diesel variant with an upgraded engine. The E4 diesel is a permanent variant whereas this Advantage Edition is a limited stocks offer.
We wonder if Renault is carrying out this exercise because it wants to make changes in the entry level Fluence E2 model.
[Source: indiancarsbikes.in]