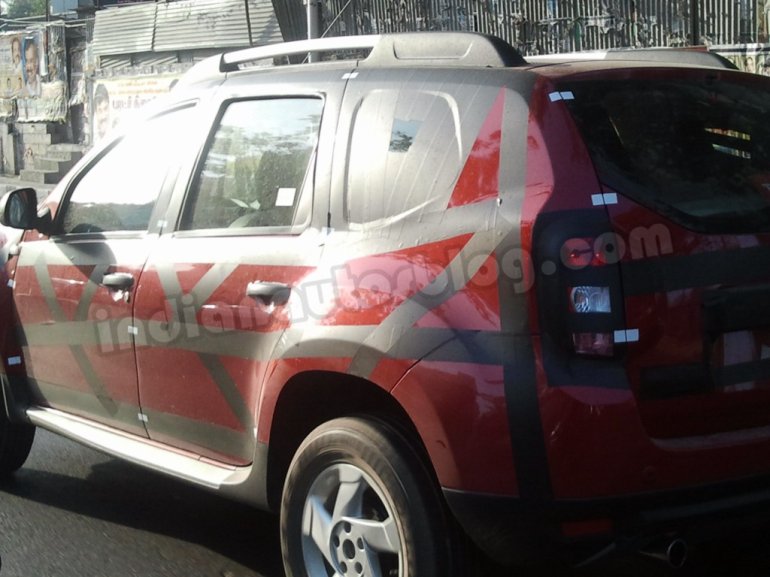 Indian Autos Blog reader Shriram N came to us with an image of the Renault Duster testing in Chennai last week. These Duster mules have been like public transport buses - there isn't a route they haven't traversed!
After Ford's unveiling of the EcoSport, Renault must be telling their guys to speed up the formalities so that the car can get a head start. The Mahindra mini Xylo is the other SUV that's testing in Chennai with the objective of pipping the other two to the finish line.
The model spied here is the top-spec with alloy wheels and roof rails.
Don't miss the video of the Renault Duster testing in Chennai
Renault says the Duster will be presented before Diwali this year. They have not talked about the powertrains but our sources have told us that there's a 1.5-liter diesel and 1.5-liter petrol under the bonnet. Renault will manufacture 4X2 and 4X4 variants of the vehicle in Chennai but there is no update on the availability of the 4X4 in the Indian market. Unlike the Koleos which is a CKD, the Duster is built out of components sources mostly from within India.
Yet another Renault Duster video filmed by IAB reader Deepu
The Renault-Nissan alliance plant in Chennai manufactures the Duster for the UK market as well. The Dacia edition of the Duster hits the UK market in January 2013 for a starting price of under 8.5 lakh rupees.