Here is a Bajaj Dominar 400 that has been prepped to survive the challenging terrains of the 2019 Desert Storm rally. The rally-prepped Bajaj Dominar 400 would be ridden by Sarath Shenoy, and he walks the viewers through all the changes that the motorcycle has gone through to handle the rough terrain.
Also read: 2019 Bajaj Dominar 400 First Ride Review
The motorcycle has shed weight and gained power, along with other modifications that make it more rugged than the standard Dominar 400. The very first change that you would notice on the rally-prepped Dominar 400 are the wire-spoke wheels that replace the factory installed alloy units. It features an 18-inch front and 17-inch rear combination that is aimed to embark upon the rough terrain. An 18-inch front wheel allowed to select from a broader range of tyres.
Apart from the wire-spoke wheels, the Dominar 400 also gets an aluminium bash plate that is aimed to offer comprehensive protection to the engine against various elements.
Venture further, and you would spot an aftermarket exhaust with an upswept design for better clearance. It is not a free flow unit as that would have affected the fuel economy drastically and reduced the range of the motorcycle. The custom exhaust has helped in weight reduction, and the full system weighs just 3 kg while the stock unit tips the weighing scale at approximately 13 kg. Overall, the motorcycle has shed nearly 20 kilograms.
The ergonomics have also been revised for better, off-road focused riding stance. Adventure style units have replaced the stock footrests, and they have been positioned further ahead as compared to the standard motorcycle. The handlebar, too, has been tweaked and the new unit sits taller than the stock Bajaj Dominar 400 for easy reach.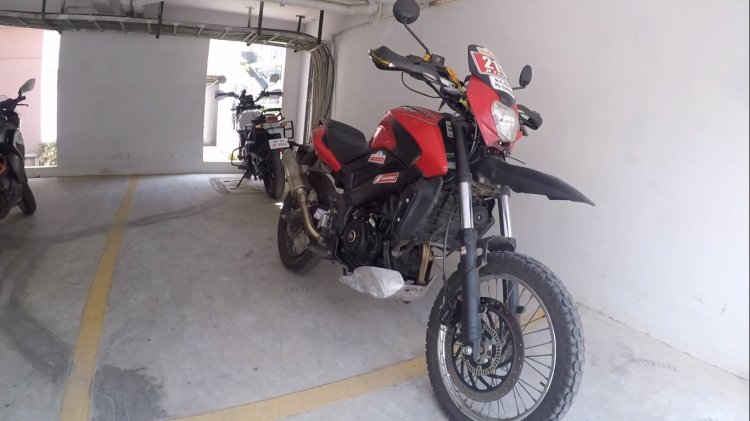 Also read: Bajaj Pulsar NS200 gets adventure kit from Autologue Design
The fascia of the rally ready motorcycle trades the full LED headlight for a compact halogen unit. A taller windscreen for better protection against windblasts has replaced the fly-screen from the standard bike. The front fender has been replaced by a tall-set unit that enhances the off-road look of the motorcycle. However, those parts would be changed before the rally. The replacement parts include better lights for optimised illumination.
The suspension setup has also been changed, and the standard rear monoshock has been replaced by an aftermarket unit. The internals of the front forks has also been altered to suit the off-road terrain.