The image you see below is reported to be the production version of the Lexus LF-NX SUV. The image, was part of a presentation made at the start of the Detorit Motor Show by Toyota USA's CEO.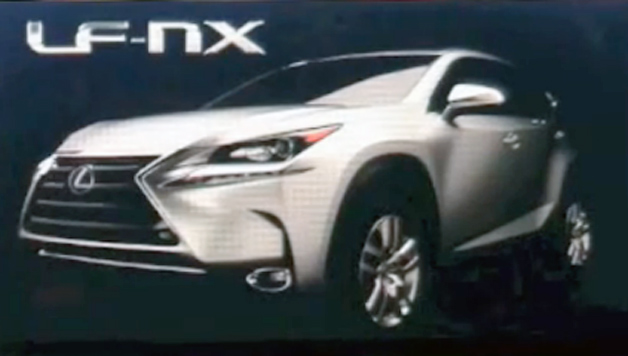 The LF-NX concept first debuted at the Frankfurt Motor Show in September last year. The design of the concept received a mixed response, though the production version seems to have that sorted to some extent. At the Tokyo Motor Show in November last year, Lexus displayed an improved version of the concept calling it the LF-NX Turbo.
If the production version were to retain the concept's dimensions (4,640 mm long, 1,869 mm wide and 1,620 mm tall with a wheelbase of 2,700 mm), it would be a rival to German SUVs such as the Audi Q5, BMW X3 and the Mercedes GLK Class. A Japanese magazine earlier reported that the LF-NX would be based on the same platform as that of the Toyota RAV4 (which in itself is based on the Camry's platform). The magazine also reported that the market launch of the SUV would take place in August 2014. This timeline would be in sync for a Geneva debut of the production LF-NX.
We expect the LF-NX to use a newly-developed 2.0-liter turbocharged engine with VVT technology.
[Source - AutoBlog.com]