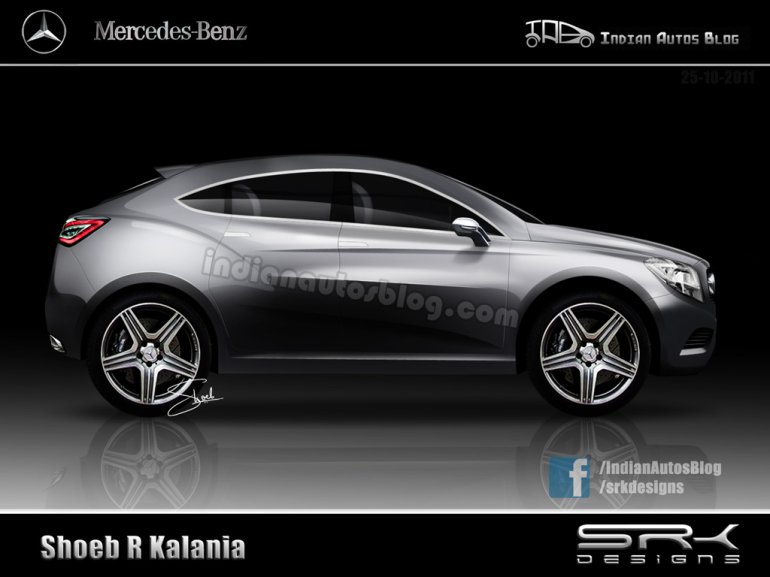 The most prestigious title of the numero uno manufacturer in luxury segment sure belongs to BMW.
And Mercedes has been longing to get BMW for a few years now. The Stuttgart based automaker is coming back from the drawing board with rivals for most of BMW's successful products.
The biggest player for BMW is definitely the X1 crossover which has helped the Indian operations almost double its volumes. Mercedes has been developing a small crossover to rival the X1 for a couple of years and here are the prelimnary details of Mercedes' turnaround specialist in the sub-30 lakh rupees segment -
It was supposed to be called the BLC but due to the new Mercedes nomenclature, was renamed GLA.
The GLA will share the MFA (Mercedes Front Wheel Architecture) with the A and B Class models.
It will have a length of 4,440mm, width of 1,800mm, and a 1,500mm height.
It will have a wheelbase of 2,700mm offering 500 litres of luggage capacity.
Mercedes plan to offer the GLA in both FWD and AWD forms.
The Mercedes GLA will have softer styling cues to make it look like an urban run-around rather than a dust-rising off roader. Mercedes plans to offer the GLG (baby G-Wagen) which will be a better off-roader.
Test mules wear a prominent grille, sweptback headlights and an increased ride height. In addition, the production model will have roof rails and a tailgate-mounted spoiler.
Mercedes might offer it in a 3 door and 5 door formats like how Land Rover did with the Evoque.
The engine options list will feature
1.6 liter gasoline engine with 120 hp or 155 hp
2.0-liter turbo with 210 hp
1.8-liter diesel with 204 hp
2.1-liter turbo-diesel  with 170 hp
There will also be an AMG version with a 2.0-liter twin-turbo petrol pumping out around 340 bhp in the later stages.
The engines will be married to a 6-speed manual or a 7G-DCT dual clutch transmission.
Drivers will get to experience the latest COMAND system and Mercedes' various other safety and telematics technologies.
The baby crossover is expected to touch down in late 2013 or early 2014.
We are certain that the Mercedes GLA will head to the Indian shores once it is ready. Mercedes-Benz India is planning to capture 30% of market share by 2022 and the GLA Class will be one of the key products that will fuel this strategy.