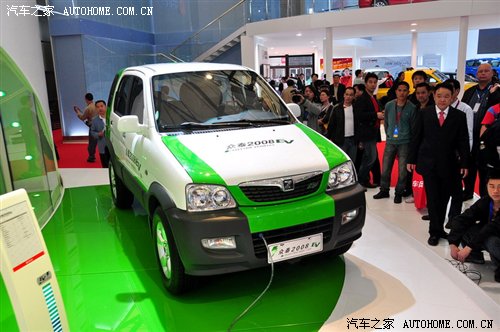 How many cars that sell in India are also sold in the US? I can count them all using my ten fingers.
A new vehicle has joined that esteemed list of vehicles, and its none other than the Premier Rio (Zotye SUV) as a fully electric SUV. Known as the Zotye 2008 EV in China, this SUV will be sold in the US via an US-based company Green Auto.
The Zotye SUV (rebadged Daihatsu Terios) is equipped decently with A/C & Heat, Power windows/Power locks, DVD Audio System, Integrated electric system monitoring screen (Monitor battery status, vehicle speed, charging status, Regular On Board Charging and fast charging port and Automatic transmission (8:1 ratio).
Green Auto Chairman/CEO Steven Fly -
This vehicle represents a huge shift in the Auto Industry and a spark in new auto sales by Green Auto. We are delighted to introduce this exciting vehicle and be first to market.
The Vehicle comes with an 185,000 mile warranty. The five Door 4 seats Electric SUV operating on Lithium Ion Battery has a max speed of about 75 mph, with a range of up to 250 miles.
Will Premier take a decision on selling such a vehicle in India? Maruti Suzuki, General Motors, Tata Motors and Mahindra are prepared for the electric revolution with products like the Indica Vista EV, Eeco EV and Spark EV. When this revolution will begin and how quickly it will gain pace is anyone's guess.
Source - Market Watch
Image Source - Autohome.com.cn