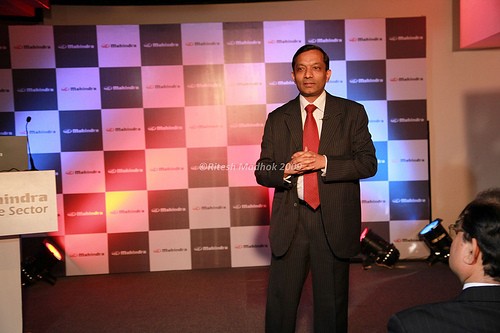 Dr. Pawan Goenka, President of Mahindra automotive sector today addressed a media gathering in New Delhi where Indian Autos Blog got a chance to ask him some of the frequently asked questions from our readers.
Q: What about the petrol variant for the XUV500? Are you developing this engine, sourcing from Ssangyong, or developing it in-house?
A: We are not working on a new engine. That's all I can say right now, our focus on XUV is to ramp up further from where we are and more so for the overseas market than Indian market. In the Indian market we reached the 4,000 (units) level that we wanted to reach and now we are going ahead in overseas markets. We are developing a series of engines. The six engined family that I talked about, that is not for XUV, that is a smaller range of engines and that will not be right for XUV. For XUV petrol we have two choices, one is a Mahindra engine which is the 2.2 litre engine and one is a Ssangyong engine and I cannot say anymore than that.
Q: Mahindra officials have previously told the media that the Korando would be launched this year. Is there a plan to launch the Korando in India anytime soon?
A: Korando will not be launched this year. Right now we are watching the success of Rexton which frankly has done quite well. I went to the dealership this morning and they have order for next two months. And we want to stabilize Rexton to 500 per month level before we think of going beyond Rexton.
Q: The Scorpio has been on the market for a while, and it has periodically been updated. However the current model has been about four years in the market and competition is stiffening. How do you plan to react to this situation?
A: Has it been four years? (startled) We have never let Scorpio become 4 year old!
I don't need to tell you that we obviously are working on refreshes all the time of all our products. I can't tell you an exact timeline when a product refresh would be launched, but every product we have in the market, we are working on refreshes. And the Scorpio also gets refreshed in due course.
Q: What is the branding like with the compact Verito? Will it have a suffix after the name Verito?
A: We will more than likely continue with the Verito master brand because with Verito we have created certain DNA ...the Verito man, Jimmy Shergill...that's caught on very well and it kind of portrays the Verito as a no-nonsense vehicle to be driven and used by sensible people. And we want to continue with that sort of a DNA that we have of Verito. One thing that has happened in the Logan to Verito transition which has made Verito more successful than Logan is that, the positioning of the product is right. We will continue Verito name with some suffix attached to it.
Q: Would the compact Verito come with a petrol engine?
A: As you know Verito has petrol engine but our sales are 90 to 95% diesel. Whether we launch a petrol engine with the sub-four meter, we have not decided. We are still waiting to see whether it's needed. Our petrol is a 1.4 litre engine so petrol will therefore become very expensive as it wont get the lower excise duty benefit. Therefore sub-4 metre Verito petrol may not have the value proposition because then you might as well buy the full sized Verito and not the sub-4 metre Verito.
Q: Would you consider launching a 2.2L mHawk version of the Quanto with two rows of Xylo seats as say the flagship variant? Many customers may not use the last row seats and would look for a more comfortable second row seating experience.
A: We have that product available for export. We will be starting exports very soon, the export Quanto is with the 2.2 litre mHawk engine and we have both versions - the 5 seater and the 7 seater, but it doesn't serve the purpose in India. Frankly because the moment we put the 2.2 litre engine excise becomes 29% and therefore for the Indian market the Quanto price will become very high. So it's unlikely that we will launch it in the Indian market, its available, if we see that the Quanto with 2.2 litre engine will get a good customer pull, we can launch it overnight.
The 5 seater Quanto in our opinion doesn't work in India. The value proposition of Quanto above a hatchback or a sedan is the fact that if you need it you can put 7 passengers comfortably in the vehicle. There is no value to it (5 seater), those who want a 5 seat Quanto can take out the 2 seats!