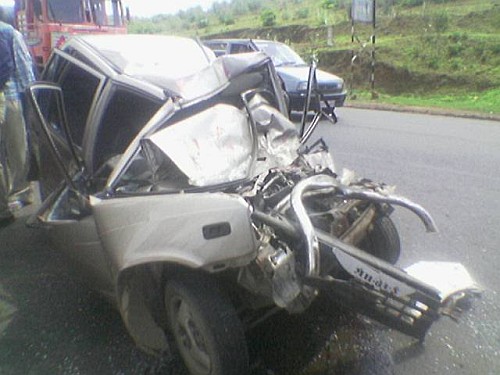 The Maruti 800 has no airbags, ABS or ESP. The company can't offer them even as options

Right!
Can the Maruti 800 pass a European crash test? Does a Maruti Omni have crumple zones? Structurally, do the Omni and 800 have anything to boast about, apart from being made of steel, that is?
Mr.Osamu Suzuki, Chairman Suzuki Motor Corporation wouldn't accept that his organization can't bring to the table, a competitor for the Tata Nano. Instead of agreeing and moving on, he now tries to describe why the Nano isn't a car according to him. He says items like single windshield wiper will erode standards.
Just because the Nano has a single windshield wiper, it doesn't mean it isn't a car. Suzuki's biggest rival Toyota, is also adopting the same technique with the Etios. So is the Etios also not a car for Mr.Suzuki? Will a car with a single wiper blade be less safe than a car with two of them? I'd say a car designed more than twenty years back can have two windshield wipers and still be less effective in providing a clean windshield than a car designed in 2005, during a storm.
Tomorrow if Maruti is not able to successfully crack the D-Segment with its Suzuki Kizashi, will Mr.Suzuki find ways to prove Accord, Camry and Passat are not executive cars because they did not have something to belong in the same category? Maybe its competitors don't have the letter 'k' or 'z' in their names. That could be a possible reason, you never know.
Mr.Suzuki's sense of humor was understood when he went all out on the Nano much before it was launched. He went to extent of saying it wasn't doable. Tata belongs to India or Indians I'll say, and this is the same country which has given Mr.Suzuki the opportunity of a lifetime to sell millions of his cars. It is a shame that he's reacted in this manner.
Mr.Suzuki shouldn't comment on safety or safety features as those things are unknown and unseen on a car like the 800 or Omni. I choose to believe that a car designed in 2005 will be far safer compared to car conceptualized in the mid-1980s. Tata is also working on fitting safety features like airbags, ABS found on modern cars to the Nano in the future. Has Maruti ever thought of doing this to their 800? Has the thought ever crossed them?
Come this April and Suzuki cannot sell the 800 in major Indian cities. Whether it likes it or not, the torch will be passed on for the Nano to carry. I'm sure with smaller dimensions, larger glass area, more interior room and a more fuel efficient engine, the Nano will be far superior car compared to the 800, which according to me belongs in a museum and not in a Maruti dealership.