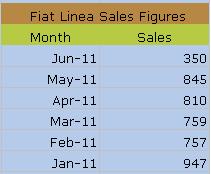 Since the launch of the Linea back in January 2009, we have seen Fiat India improve the Linea and launch a more powerful, fully loaded T-Jet variant. Despite these efforts and a staggering product, sales have not been all that great. In 2011, Fiat' best performance was in January where it sold 947 units.
The new Hyundai Verna has created quite a stir in the market within weeks of its launch. Launched at an attractive price point and loaded with all the features one could possible use when driving, the Hyundai Verna has set the sales register ringing for Hyundai India.
While Hyundai delivered 4000+ units in the month of May and June, Fiat Linea had more than half of its sales figures wiped off clean.
The Verna is the new kid on the block and is basking in the joy of the honeymoon period. This will not last forever, but with 20k bookings, the Verna's now the talk of the town and will continue to be so for a while.
Fiat India is quick to take notice of the situation and has launched marketing initiatives to increase footfalls at dealerships. By offering diesel cars for a petrol car's cost and free fuel for buyers, Linea sales have to pickup this month and Fiat dealers will get busy.
But Fiat India will not go beyond marketing initiatives. This is what we heard today.
Fiat India's Mumbai based spokesperson to Indian Autos Blog -
There's no facelift for Linea or Punto this year. The lineup will be the same in 2011.
So it is official that there is no 'Knight in the Shiny Armor' that can save the Linea's sales figures. As a product, it is a very potent competitor in the segment (especially the T-Jet which is my personal favorite) and by inviting customers into dealerships and providing them with an experience of the car, chances are many will fall in love with the Linea.
Is Fiat secretly planning to launch an assault in 2012 with a new Linea? What would you like to see change on the new car?